Definition of dead
(Entry 1 of 3)
1 : deprived of life : no longer alive a dead tree dead soldiers missing and presumed dead
b : very tired Our legs were completely dead after the hike.
c(1) : incapable of being stirred emotionally or intellectually : unresponsive a heart dead to pity felt dead inside
(2) : grown cold : extinguished dead coals
c : no longer producing or functioning : exhausted a dead battery
4a(1) : lacking power or effect a dead law
(2) : no longer having interest, relevance, or significance a dead issue
b : no longer in use : obsolete a dead language
c : no longer active : extinct a dead volcano
d : lacking in gaiety or animation a dead party
e(1) : lacking in commercial activity : quiet The city is dead after five o'clock.
(2) : commercially idle or unproductive dead capital
f : lacking elasticity (see elasticity sense 1a) a dead tennis ball
g : being out of action or out of use The phone went dead. specifically, electrical engineering : free from any connection to a source of voltage and free from electric charges a dead electrical circuit
h(1) sports, games : being out of play a dead ball
(2) croquet : temporarily forbidden to play or to make a certain play
5a : not running or circulating : stagnant dead water
b : not turning the dead center of a lathe
c mechanical engineering : not imparting motion or power although otherwise functioning a dead rear axle
d : lacking warmth, vigor, or taste The fire was dead. a dead wine
6a : absolutely uniform a dead level of mediocrity
b(1) : unerring a dead shot with a rifle
(2) : exact dead center of the target
(3) : certain to be doomed he's dead if he's late for curfew
(4) : irrevocable a dead loss
c : abrupt brought to a dead stop
7 : devoid of former occupants dead villages
dead in the water
1 : incapable of being effective : stalled peace talks were dead in the water
2 : as good as dead : doomed most books are dead in the water long before their publication— Phillip Lopate
dead to rights
: with no chance of escape or excuse : red-handed had him dead to rights for the robbery
over one's dead body
: only by overcoming one's utter and determined resistance vows that they'll raise his taxes over his dead body
Definition of dead (Entry 2 of 3)
1 : someone who is no longer alive : one that is dead (see dead entry 1 sense 1) —usually used collectively They were among the dead.
2 : the state of being dead raised him from the dead — Colossians 2:12 (Revised Standard Version)
3 : the time of greatest quiet the dead of night
Definition of dead (Entry 3 of 3)
1 : absolutely, utterly dead certain finished dead last The room became dead quiet.— Farley Mowat
2 : suddenly and completely stopped dead in his tracks
to enclose within walls
Get Word of the Day daily email!
Late Autumn 2018 Words of the Day Quiz
Which is a synonym of yahoo?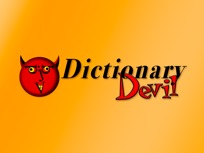 Test Your Knowledge - and learn some interesting things along the way.
TAKE THE QUIZ