Definition of foot
(Entry 1 of 2)
1
: the terminal part of the vertebrate (see

vertebrate

entry

1) leg upon which an individual stands
3
: any of various units of length based on the length of the human foot
especially
: a unit equal to ¹/₃ yard and comprising 12 inches
—
plural foot used between a number and a noun
a 10-foot pole
—
plural feet or foot used between a number and an adjective
6 feet tall
— see Weights and Measures Table
4
: the basic unit of verse meter consisting of any of various fixed combinations or groups of stressed and unstressed or long and short syllables Each line of the poem contains five feet.
5
a
: motion or power of walking or running :

step

fleet of

foot
6
: something resembling a foot in position or use: such as
a
: the lower end of the leg of a chair or table
b
(1)
: the basal portion of the sporophyte in mosses
(2)
: a specialized outgrowth by which the embryonic sporophyte especially of many bryophytes absorbs nourishment from the gametophyte
c
: a piece on a sewing machine that presses the cloth against the feed
7
foot
plural
,
chiefly British
:
infantry
8
: the lower edge (as of a sail)
9
: the lowest part :

bottom

the

foot

of the hill
10
a
: the end that is lower or opposite the head the

foot

of the bed
b
: the part (as of a stocking) that covers the foot
11
foots
plural in form but singular or plural in construction
: material deposited especially in aging or refining :

dregs
at one's feet
: under one's spell or influence The champion loved the feeling that the world was at his feet.
foot in the door
: the initial step toward a goal He took a job as a secretary to get his foot in the door.
off one's feet
: in a sitting or lying position The doctor advised her to stay off her feet.
on foot
: by walking or running tour the campus on foot
on one's feet
1
: in a standing position He works on his feet all day.
2
: in an established position or state The business is finally back on its feet.
3
: in a recovered condition (as from illness) back on my feet
4
: in an extemporaneous (see

extemporaneous

sense 1a

) manner : while in action good debaters can think on their feet
to one's feet
: to a standing position brought the crowd to its feet
Definition of foot (Entry 2 of 2)
3
of a sailboat
: to make speed :

move
1
a
: to perform the movements of (a dance)
b
: to walk, run, or dance on, over, or through
b
: to pay or stand credit for

foot

the bill
5
: to make or renew the foot of

foot

a stocking
Musical Words Quiz
Which word describes a musical performance marked by the absence of instrumental accompaniment?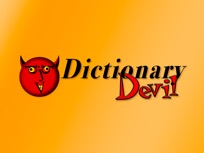 Test Your Knowledge - and learn some interesting things along the way.
TAKE THE QUIZ