air
noun
,

often attributive
Definition of air
(Entry 1 of 2)
1a archaic : breath
b : the mixture of invisible odorless tasteless gases (such as nitrogen and oxygen) that surrounds the earth also : the equivalent mix of gases on another planet … the thin, frigid air of Mars. — Stefano S. Coledan
c : a light breeze
2a : empty space
b : nothingness vanished into thin air
c old-fashioned : a sudden severance of relations She gave me the air.
3 [ probably translation of Italian aria ]
b Elizabethan & Jacobean music : an accompanied song or melody in usually strophic form
c : the chief voice part or melody in choral music
4a : outward appearance of a thing an air of luxury
b : a surrounding or pervading influence : atmosphere an air of mystery
c : the look, appearance, or bearing of a person especially as expressive of some personal quality or emotion : demeanor an air of dignity
d : an artificial or affected manner put on airs
5 : public utterance He gave air to his opinion.
8 : a football offense utilizing primarily the forward pass Trailing by 20 points, the team took to the air.
9 : an air-conditioning system a house with central air
10 : the height achieved in performing an aerial maneuver a snowboarder catching big air also : the maneuver itself
in the air
: being felt or expressed by many people : in wide circulation There was a sense of anticipation in the air.
up in the air
: not yet settled a question that's still up in the air
Definition of air (Entry 2 of 2)
1 : to expose to the air for drying, purifying, or refreshing : ventilate —often used with out He opened the windows to air out the room.
2 : to expose to public view or bring to public notice aired their complaints
3 : to transmit by radio or television air a program
1 : to become exposed to the open air The blankets were left outside to air.
2 : to become broadcast a program that airs daily
to make faulty or ineffective
Get Word of the Day daily email!
Find the Cousins
Which pair shares a common word ancestor?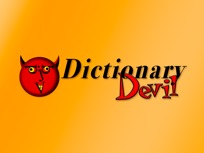 Test Your Knowledge - and learn some interesting things along the way.
TAKE THE QUIZ