/

Vocabulary
The Storm Runner by J.C. Cervantes Reading Guide
---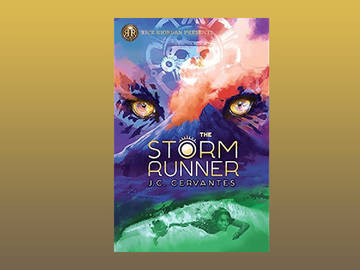 Zane Obispo has never been like the other kids in school. He was born with a limp no doctor could explain. He has no idea who his father is. And he's got a volcano in his backyard. But Zane is content. He has a mother and an uncle who love him, a constant companion in his dog, Rosie, and a steady job working as a secretary for a local blind psychic named Ms. Cab. But when a mysterious girl named Brooks shows up at his school, and then at his home, and then as a hawk, Zane realizes that his life is about to get a lot more complicated.
As it would turn out, Zane Obispo was never meant to be like the other kids in school. He was meant for so much more. He is the child of an ancient Mayan God and he is the subject of an ancient prophecy that foretells the return of the horrible god of death, disease, and destruction: Ah-Puch. Zane and Brooks must now race to ensure that Ah-Puch cannot achieve his goals of destroying all life on Earth, and they must do it before the other gods find Zane, and destroy him.
Vocabulary by Chapter Index
Vocabulary from Chapters 10-13
Vocabulary from Chapters 14-18
Vocabulary from Chapters 19-21
Vocabulary from Chapters 22-27
Vocabulary from Chapters 28-33
Vocabulary from Chapters 34-38
Vocabulary from Chapters 39-Post Postscript
Discussion Questions
Zane gets to meet and interact with several heroes and villains from Mayan mythology and culture and see how they have adapted to life in the modern world. Are there any figures from your own or another culture's folklore that you would like to meet? What do you think they would be like in today's world?
It is clear that Zane gets his superpowers from his father, but his human mother and uncle have clearly had a profound effect on who Zane is as a person. What do you think makes Zane more of a hero? The powers his father gives him, or the qualities and traits he has learned and inherited from his mother and uncle?
Bonus question: If you could turn into any animal in the world what would it be and why?
---