/

Vocabulary
The Parker Inheritance Reading Guide
---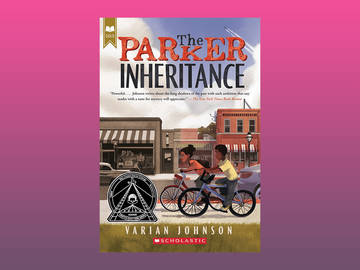 Candice Miller has always had a knack for thinking outside the box, a powerful sense of right and wrong, and a penchant for puzzles cultivated by her beloved grandmother, Abigail Caldwell. So when she finds a mysterious letter addressed to her grandmother that is riddled with clues for a decades old scavenger hunt, Candice feels that it is up to her to pick up where her grandmother left off.
Now, with the help of her friend, Brandon, Candice must piece together the clues left behind by a mysterious, missing, millionaire so that she can save the small town of Lambert, South Carolina. In doing so, Candice and Brandon plunge deep into Lambert's problematic history, and realize that in order to save the town, they must lay its sins bare for the world to see.
Vocabulary by Chapter Index
Vocabulary from Chapters 12-14
Vocabulary from Chapters 15-18
Vocabulary from Chapters 19-26
Vocabulary from Chapters 27-30
Vocabulary from Chapters 31-35
Vocabulary from Chapters 36-42
Vocabulary from Chapters 43-52
Discussion Questions
The Parker Inheritance demonstrates that racism, and hate in general, can take many forms and that even though things might be better today than they were 70 years ago, things are far from perfect. The racism that Candice and Brandon experience at the hands of Mr. Rittenhauer is more passive than the physical and verbal abuse Enoch Washington and Reggie Bradley face, yet it is still harmful. Similarly, characters like William Maynard believe that since things are better now there is no sense in digging up and exposing past hate crimes or instances of overt racism and discrimination. However, a big theme in this book is that we can never forget the sins of the past. Why do you think an understanding of the past is so intrinsic to forging a better future?
The Parker Inheritance jumps around to different times and follows the point of views of different characters. What do you think of this storytelling technique? Why do you think Johnson chose to lay out the story, and the mystery, in this fashion?
---