/

Vocabulary
Fish in a Tree by Lynda Mullaly Reading Guide
---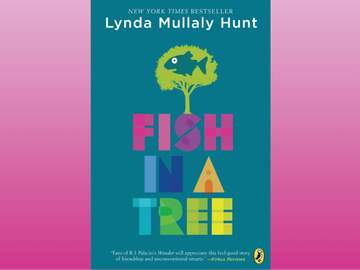 Ally Nickerson has always had trouble with school. And school, in turn, has always had trouble with her. She's been picked on, ignored, and sent to the principal's office more times than she count. But Ally isn't trying to misbehave. She isn't trying to do poorly on her assignments. She wants to do good, she just can't seem to do what the other kids do, and she'd do anything to understand _why__.
But when a teacher named Mr. Daniels takes over her class, Ally realizes that maybe things don't always have to be as bad as they once were. With Mr. Daniels's help, Ally discovers that she has something called dyslexia, which causes her to learn and read and see the world in a different way. Armed with this realization, and with a newfound understanding of her limitations and abilities, Ally is able to make positive changes in her life with the help of her friends, Keisha and Albert.
Vocabulary by Chapter Index
Vocabulary from Chapters 10-17
Vocabulary from Chapters 18-21
Vocabulary from Chapters 22-27
Vocabulary from Chapters 28-34
Vocabulary from Chapters 35-42
Vocabulary from Chapters 43-51
Discussion Questions
A major theme in Fish in a Tree is that everybody has their own struggles that they deal with. Think about the people in your life. Your family, your friends, your classmates. In what ways might they be struggling? How can you offer them support like Ally reaches out to Albert, Keisha, and Travis?
Character analysis: Shay is a bully who torments Ally and the rest of her classmates any chance she gets. Even her friends fear her more than they like her and by the book's end she is left alone and powerless. Yet, we know that Shay is under a lot of pressure to succeed and stand out from her mother. While this might explain some of Shay's behavior towards her peers, as Keisha point out, it doesn't excuse it. How might Shay have overcome her personal challenges and struggles in a positive and constructive way?
---