/

Vocabulary
Bayou Magic Reading Guide
---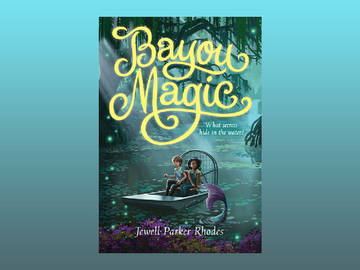 Maddy Johnson is a regular girl from a regular family. She is the youngest of the five girls in her family. She likes to cook with her mother. She likes living in New Orleans. Life is simple, and life is good. But when the time comes for Maddy to spend a summer with her mysterious grandmother in an old bayou, Maddy will soon learn that her family is quite special, and that even among them, Maddy is the most special of all.
Maddy quickly realizes that this summer will be unlike any other as she befriends a rowdy, adventure-loving boy named Bear, meets the colorful bayou locals, and sees what she firmly believes to be a mermaid. Maddy must now learn from her Grandmère about the incredible power that she holds within her. A power that she may soon be called upon to use to save the bayou and every human, animal, and mermaid in it.
Vocabulary by Chapter Index
Vocabulary from Chapters 10-18
Vocabulary from Chapters 19-21
Vocabulary from Chapters 22-28
Discussion Questions
Why do you think Maddy, more than any of her sisters, is able to tap into the ancient powers her family has? Is it merely a quirk in genetics? Or is there something in Maddy's character that allows her to do the things she does?
A major theme in Bayou Magic is the responsibility we have to protect and care for the environment and the world around us. What are somethings that you and your family can do to help in the fight for planet Earth?
---