Definition of noise
(Entry 1 of 2)
1 : loud, confused, or senseless shouting or outcry the noise of the rioters
2a : sound entry 1 especially : one that lacks agreeable musical quality or is noticeably unpleasant traffic noise engine noises
b : any sound that is undesired or interferes with one's hearing of something I couldn't hear him over all the noise.
c : an unwanted signal or a disturbance (such as static or a variation of voltage) in an electronic device or instrument (such as radio or television) broadly : a disturbance interfering with the operation of a usually mechanical device or system
d : electromagnetic radiation (such as light or radio waves) that is composed of several frequencies (see frequency sense 3b) and that involves random changes in frequency or amplitude (see amplitude sense 1b)
e : irrelevant or meaningless data or output occurring along with desired information The initial data includes a lot of noise that needs weeded out.
4 : something that attracts attention the play … will make little noise in the world— Brendan Gill
5 : something spoken or uttered made a loud noise when he hit his finger with the hammer
6 : a style of rock music that is loud, often discordant, and usually uses electronic noise (such as feedback)
Definition of noise (Entry 2 of 2)
1 : to talk much or loudly
: to spread by rumor or report —usually used with about or abroad the scandal was quickly noised about
to clear from alleged fault or guilt
Get Word of the Day daily email!
Difficult Vocab Quiz
Which is a synonym of discomfit?

Test your knowledge - and maybe learn something along the way.
TAKE THE QUIZ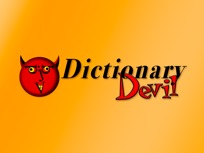 Test Your Knowledge - and learn some interesting things along the way.
TAKE THE QUIZ