/

Vocabulary Lists
Tale of Despereaux Reading Guide
---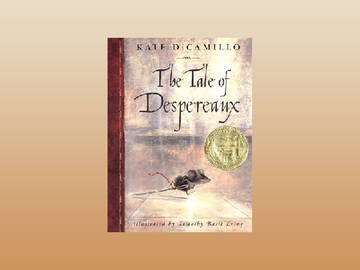 Despereaux Tilling is a very unusual mouse. Instead of scurrying, squeaking, and scrounging for scraps, Despereaux would rather read stories, listen to music, and spend time with the human Princess Pea. Chiaroscuro is a very unusual rat. Instead of tormenting prisoners in the depths of the dungeon, Roscuro yearns to be able to bask in the light of the world upstairs. Miggery Sow is a very unusual peasant. Cast off by her father, abused by her "Uncle" and then ripped from the only world she knows, Mig cares not for the duties and tasks she's been assigned. Instead, Mig wants to be a princess. Like Pea. These three unlikely and strange characters soon find themselves woven together in a tale of perfidy, vengeance, and impossible dreams.
Vocabulary by Chapter Index
Vocabulary from Chapters 10-12
Vocabulary from Chapters 13-15
Vocabulary from Chapters 16-18
Vocabulary from Chapters 19-24
Vocabulary from Chapters 25-30
Vocabulary from Chapters 31-37
Vocabulary from Chapters 38-43
Vocabulary from Chapters 44-46
Vocabulary from Chapters 47-52
Discussion Questions
Have you ever done something that made you stand out? How did people react? How did those reactions make you feel? How do you react when other people do things that make them stand out?
Character Analysis: Think about the parallels between Despereaux, Roscuro, and Mig. All three characters are born into realities where they feel out of place. All three characters are given a taste of the lives they yearn for and all three of those lives ripped away from them. Despereaux becomes a hero, Roscuro a villain, and Mig falls somewhere in between. Why do you think these characters had such different reactions to their similar circumstances. Can Roscuro and Mig be blamed for their choices when their upbringings were so difficult?
---