/

Vocabulary
Framed! by James Ponti Reading Guide
---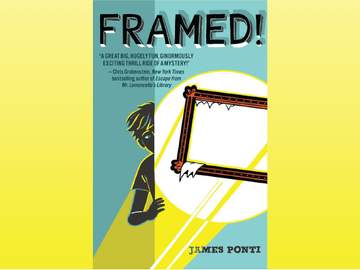 Florian Bates is no ordinary seventh-grader. Sure he goes to school, hangs out with his friends, and does his homework but he's also a consultant for the Federal Bureau of Investigation: the FBI. Using his incredible brain and a method of observation known as the Theory of All Small Things, or TOAST, Florian and his friend, Margaret, help the FBI solve mysteries that are more complicated than meets the eye.
When several paintings are stolen from the museum his mom works at, Florian is tasked with identifying the culprits and finding the missing artwork. His investigation takes him from the museum to a foreign embassy all the way to the back of a kidnapper's van. In order to succeed, Florian must put his powerful brain to the ultimate test, before it's too late.
Vocabulary by Chapter Index
Vocabulary from Chapters 12-17
Vocabulary from Chapters 18-23
Vocabulary from Chapters 24-31
Discussion Questions
In Framed! Florian and Margaret use the Theory of All Small Things to learn things about the people around them through observation. What kind of things can you learn about a person just by observing them? Think about the various characters in this book, what kind of things can you learn about them by applying TOAST to them?
Do you think Florian and Agent Rivers are correct to keep the identity of Margaret's father a secret from her? What do you think will happen if Margaret ever finds out?
---