/

Vocabulary
The Bookwanderers by Anna James Reading Guide
---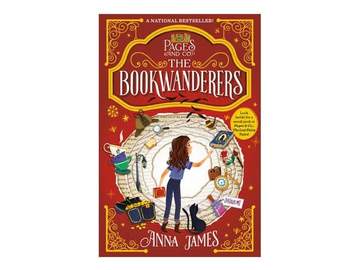 Tilly Pages never knew her parents. Her father passed away before she was born and her mother, Bea, disappeared soon afterward. She lives with her grandparents, Archie and Elise above their bookstore Pages & Co. and for the most part, she is content. But when Tilly finds a box of her mother's old books and then characters from her favorite books start showing up in the bookstore, she realizes that there is more to her family, and their bookstore than meets the eye.
Tilly and her friend Oskar are suddenly whisked into the magical world of the Bookwanderers, a group of book lovers who connect with books so deeply that they can actually enter texts and draw beloved characters out of them. Using her new powers Tilly is determined to get to the bottom of her mother's disappearance and to discover what her place is in this new magical world.
Brightly's Book Club for Kids Pick! Head over there for more fun book activities!
Vocabulary by Chapter Index
Vocabulary from Chapters 14-18
Vocabulary from Chapters 19-21
Vocabulary from Chapters 22-27
Vocabulary from Chapters 28-36
Vocabulary from Chapters 37-39
Discussion Questions
Archie Pages tells Tilly that "The books we love when we're growing up shape us in a special way." What are some of your favorite books and stories? In what ways do you think they've changed or shaped you?
If you could bookwander into any book or meet any fictional character who would it be and why?
---