/

Vocabulary
Charlie and the Chocolate Factory Reading Guide
---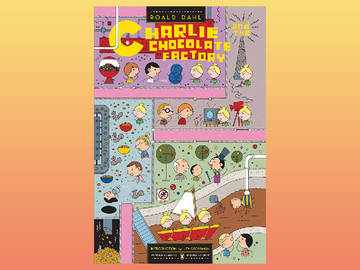 Charlie Buckets is poor but kind-hearted boy who is given the opportunity of a lifetime when he finds one of Willy Wonka's golden tickets. Now Charlie, along with four other lucky, if flawed, children will get a chance to see the wondrous and fantastical Wonka Chocolate Factory. What Charlie doesn't know though, is that Wonka is running a secret competition, and so the children must be on their absolute best behavior.
Vocabulary by Chapter Index
Vocabulary from Chapters 10-12
Vocabulary from Chapters 13-16
Vocabulary from Chapters 17-20
Vocabulary from Chapters 21-24
Vocabulary from Chapters 25-27
Vocabulary from Chapters 28-30
Discussion Questions
Character Analysis: Think about the character of Willy Wonka, he gives Charlie and his family a new life and gives the other children a lifetime supply of chocolate while teaching them valuable lessons about greed and recklessness. But why does he do these things? What does Willy Wonka want? Is he, overall, a hero or villain in the story? Why?
Bonus question: If you could invent any kind of candy, what would it be?
---