Trend Watch
Presumptive
Lookups spiked following Trump's win in the Indiana primary
---
Lookups for presumptive spiked 504% on May 4th, following a decisive victory by Donald Trump in the Indiana primary the day prior. Trump is now viewed by many as the likeliest Republican candidate for the presidential contest later this year.
Donald Trump is the presumptive Republican presidential nominee following a decisive victory in the Indiana primary and the decision by Ted Cruz to drop out of the race. —CNN Politics, 4 May, 2016

Billionaire Donald Trump assumed the mantle of presumptive Republican presidential nominee on Wednesday with a mixed message on party unity and a clearer one for his next likely target, Democrat Hillary Clinton. —Reuters, 4 May, 2016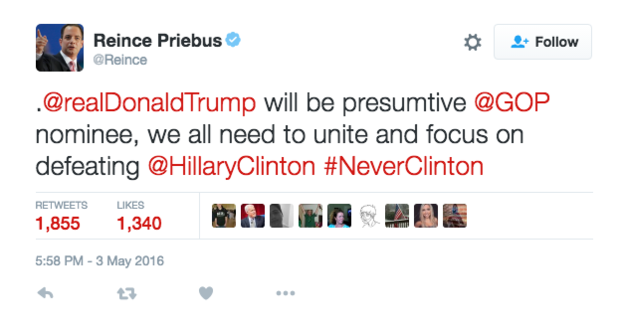 (the above tweet was later deleted.)
Presumptive is not a particularly recent addition to the English language; it has been in consistent use since the 15th century. The word comes from the Latin praesumptus (which is the past participle of praesumere, "to anticipate, suppose, take in advance"), and the earliest recorded sense in which it was used is one that still has considerable currency today: "based on probability or presumption."
There is a less common medical sense of the word, which typically is only found in the field of embryology: "expected to develop in a particular direction under normal conditions." As has been remarked upon by innumerable pundits and prognosticators, this election cycle has been composed of anything but "normal conditions." So it seems entirely reasonable, when considering these two definitions, to say that Donald Trump both is and most certainly is not the presumptive candidate for the 2016 election.
Trend Watch tracks popular lookups to see what people are talking about. You can always see all Trend Watch articles here.
---