Definition of skid
(Entry 1 of 2)
1
: one of a group of objects (such as planks or logs) used to support or elevate a structure or object
2
: a wooden fender hung over a ship's side to protect it in handling cargo
3
: a usually iron shoe or clog attached to a chain and placed under a wheel to prevent its turning when descending a steep hill :

drag
4
: a timber, bar, rail, pole, or log used in pairs or sets to form a slideway (as for an incline from a truck to the sidewalk)
6
: either of two longitudinal pieces used as part of the landing gear of an airplane or helicopter

—

usually pluralthe

skids

of a helicopter
7
a
skids
plural
: a route to defeat or downfall on the

skids

his career hit the

skids
b
: a losing streak a 5-game

skid
8
: a low platform mounted (as on wheels) on which material is set for handling and moving
also
:
pallet
sense 3
Definition of skid (Entry 2 of 2)
1
: to apply a brake or skid to : slow or halt by a skid
2
a
: to haul (logs or something similar) by dragging cutting and skidding firewood
b
: to haul along, slide, hoist, or store on skids
1
: to slide without rotating (as a wheel does when it is held from turning while a vehicle moves onward)
2
a
: to fail to grip the roadway
especially
: to slip sideways on the road
b
of an airplane
: to slide sideways away from the center of curvature when turning
3
: to fall rapidly, steeply, or far sales skidded last year
a plan in which a last survivor takes all
Get Word of the Day daily email!
The Eponym Quiz
Which is the best synonym of bowdlerize?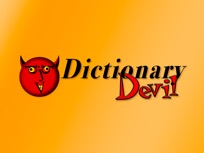 Test Your Knowledge - and learn some interesting things along the way.
TAKE THE QUIZ