1
a
: a characteristic, trait, or feature resulting from some influence the

impression

on behavior produced by the social milieu
b
: an effect of alteration or improvement the settlement left little

impression

on the wilderness
c
: a telling image impressed on the senses or the mind
a
: a stamp, form, or figure resulting from physical contact
b
: an imprint of the teeth and adjacent portions of the jaw for use in dentistry
c
: an especially marked and often favorable influence or effect on feeling, sense, or mind
3
: the act of impressing: such as
a
: an affecting by stamping or pressing
b
: a communicating of a mold, trait, or character by an external force or influence
4
a
: the amount of pressure with which an inked printing surface deposits its ink on the paper
b
: one instance of the meeting of a printing surface and the material being printed
also
: a single print or copy so made
c
: all the copies (as of a book) printed in one continuous operation from a single makeready
5
: an often indistinct or imprecise notion or remembrance
6
a
: the first coat of color in painting
b
: a coat of paint for ornament or preservation
7
: an imitation or representation of salient features in an artistic or theatrical medium
especially
: an imitation in caricature of a noted personality as a form of theatrical entertainment
8
:
page view
especially
: an instance in which a specific element (such as an advertisement) is displayed on a web page accessed by a user
Although many consumers have never heard of ad tech firms, people's online activity is influenced every day by these companies as they battle for a share of ad

impressions

on phones, tablets, and laptops.
— Claire Ballentine
a plan in which a last survivor takes all
Get Word of the Day daily email!
The Eponym Quiz
Which is the best synonym of bowdlerize?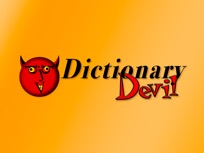 Test Your Knowledge - and learn some interesting things along the way.
TAKE THE QUIZ