Words We're Watching
'Pod': A Collective Noun for Students
In school and at sea? Joining a pod is an option.
---
What to Know

The origin of pod, referring to a group of marine mammals, isn't known, but in the 20th century it was adopted to refer to small groups of students as well. In response to the COVID-19 pandemic, this usage has seen an uptick, as educators consider new models for educating students remotely or in small groups referred to as "pods."
Update: This meaning was added in January 2021.
Considering that a school of fish is a group of the aquatic animals swimming together in the same direction and that a school on land is a place of learning at which a class of students are grouped together to learn and move forward in their education, it really isn't all that surprising to hear that some people believe the two schools to be etymologically related. One can draw comparisons, but they are, however, two distinct words—homographs, to be precise—of different derivation. If you're up to getting schooled on school, click here. But return promptly as we are about to begin our lesson on pod, a word for a group of aquatic mammals brought ashore for a group of students.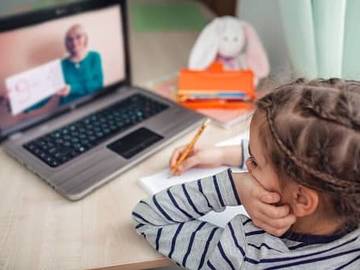 Pod: A Group of Whales...or Students
Pod is first recorded in 19th-century English to indicate a herd of whales, dolphins, porpoises, seals, and other such creatures. Its origin is unknown, but here is a tidbit of information on another common pod to satisfy the inquisitive reader's curiosity: pod, the name of the long, thin part of some plants containing seeds, is believed to be an alteration of Middle English cod, meaning "bag." It is in the 20th century that education specialists began applying the animal collective noun to small groups of students in a classroom or of a similar grade level.
As the children work, Douglas circulates among various pods of students playing quietly with wooden blocks or Duplo plastic blocks, using the class computer, working on their art project, or doing their class work.
— Peter N. Spotts, The Christian Science Monitor, 7 Nov. 1991

Silvia Dyck, president of the B.C. Confederation of Parent Advisory Councils, said she has little information on extended school days. ... Instead, most of the discussion in recent years has focused on year-round schooling and multi-tracking, with pods of students attending the same school at different times throughout the year.
— Lindsay Kines, The Vancouver Sun, 3 Feb. 1997
Increased Use of 'Pod' During COVID-19
Recently, this usage of pod has seen an increase in nonacademic writing and in social media as educators and parents consider various models of small group learning in the classroom and at home during the COVID-19 pandemic. Here are some examples to review:
Learning pods—also called "pandemic pods," micro-schools or nano-schools—are small groups of students (typically three to 10 children) who learn together outside the classroom but still in person. Some pods are hiring tutors to teach a child's school curriculum; some pods are sharing teaching duties among parents. Other families are opting out of their kids' schools entirely and treating a pod like a home-schooling co-op with an agreed-upon curriculum.
— Dani Blum and Farah Miller, The New York Times, 18 Aug. 2020

Pods—a homeschooling option that puts students together in small groups as a way to share remote learning supervision and child care duties between their respective families—have caught on across the U.S. as school districts move classes online amid the COVID-19 pandemic.
— Erin Udell, The Fort Collins Coloradoan, 19 Aug. 2020

Learning pods and "microschools" are not new concepts, but they've become increasingly popular during the pandemic among busy parents seeking to split the cost of a tutor to help their children with online schoolwork. In some cases, the pods effectively serve as homeschooling, with unique curriculum. In others, the students remain enrolled in their schools and the tutor supervises students' remote learning based on the curriculum provided by the school.
— Amanda Blanco and Susan Dunne, The Hartford Courant, 21 Aug. 2020
Examining the recent uptick in the usage of this sense of pod, we can say that the entry of the homograph pod referring to an animal herd will soon be expanded to cover the "pod" of students grouped in a classroom or at home who are learning together and moving forward in their education.
Words We're Watching talks about words we are increasingly seeing in use but that have not yet met our criteria for entry.
---