Words of the Week
The Good, The Bad, & The Semantically Imprecise - 5/24/19
Some of the words that defined the week of May 24, 2019
---
Welcome to The Good, The Bad, & The Semantically Imprecise, in which we look over some of the words that tickled your curiosity this past week. Please note that the word bad is used here in a semantically vague fashion; we do not really think of any words as bad (although sometimes they are a bit unruly).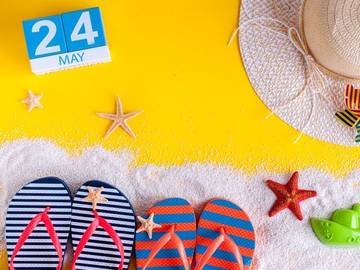 'Abolition' and 'abolitionist'
Both abolition and abolitionist saw a rise in lookups this week, after Steven Mnuchin announced that Harriet Tubman, noted American abolitionist, would not be replacing Andrew Jackson on the $20 bill. Abolition came into English in the 16th century, and abolitionist in the 18th; the words come from the Latin abolēre ("to abolish").
Plans to redraw the currency, replacing the slaveholding president Andrew Jackson with the abolitionist leader, are being put off until at least 2026, Treasury Secretary Steven Mnuchin announced Wednesday.
— Isaac Stanley-Becker, The Washington Post, 23 May 2019
'Patriarchy'
Patriarchy was brought to our attention this week, after a tweet asked us to weigh in on the matter of whether the word qualified as profanity.
So my friend @LaraEverly just tried to order a cake that said "Smash the patriarchy" and neither @RalphsGrocery NOR @WholeFoods would do it because it falls under "Profanity." So my question is which word is profane? Smash? The? Patriarchy? @MerriamWebster could you help me out?

— Amanda Deibert🏳️‍🌈🌻🌻 (@amandadeibert) May 22, 2019
While we cannot say with utter certainty what intent lies in the heart of anyone who uses the word, we can say that we have no evidence that patriarchy qualifies as profane. We define the word in the following senses: "social organization marked by the supremacy of the father in the clan or family, the legal dependence of wives and children, and the reckoning of descent and inheritance in the male line; broadly, control by men of a disproportionately large share of power," and "a society or institution organized according to the principles or practices of patriarchy."
Patriarchy has been in use for some 400 years, although the sense of the word which is often found in close proximity to smash ("control by men of a disproportionately large share of power") is fairly recent (coming about in the latter portion of the 20th century).
'Folderol'
Many Americans have long suspected that the British government is run by people with interesting looking hyphenated names, who wear clothing of a certain cut, and use language that is full of whimsy. Many felt these suspicions were confirmed last week when Jacob Rees-Mogg, wearing a dashing double-breasted suit, accused Prime Minister Teresa May of proposing folderol ("nonsense"). If you are in need of some synonyms for this word, and would like them to be of similar currency we might suggest codswallop, flannel, and piffle.
'It never rains but it pours'
This week also saw a spike in lookups for it never rains but it pours, after the web site of the British newspaper The Guardian used this idiom as a headline, referring to reports that Trump Tower in New York City is becoming viewed as an undesirable place to live. This expression is defined as "used to say that when something bad happens other bad things usually happen at the same time," and has been in use, in one form or another, since at least the beginning of the 18th century.
After an Hour or two's Walking, I Treated my Ladies with the best the Place afforded, and then returned Home: But the next Morning I receiv'd a Letter of Advice from London, of the Death of an Aunt, who had made me her Heir; which put me in mind of the Old Proverb, It never Rains, but must Pour.
— Edward Ward, A step to the Bath with a character of the place, 1700
Our Antedating of the Week: 'disgraceful'
Apropos of nothing in particular, this week's antedating is disgraceful ("bringing or involving disgrace"). Our earliest known written use had previous come in 1597; that date now is a decade earlier.
But to proue this, though for the present disgracefull, yet in the sequell, a more gloryous tryumph, euen heare on earth, then euer anye the Romans had; Lett vs consider the gloryous shewes ther be to sett it forth.
— Robert Southwell, An epistle of comfort to the reuerend priestes, 1587
---