Words of the Week
The Good, The Bad, & The Semantically Imprecise - 4/26/19
The words that defined the week of April 26, 2019
---
Welcome to The Good, The Bad, & The Semantically Imprecise, in which we look over some of the words that tickled your curiosity this past week. Please note that the word bad is used here in a semantically vague fashion; we do not really think of any words as bad (although sometimes they are a bit unruly).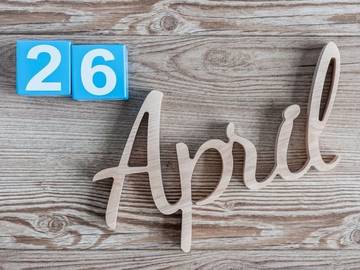 Candidacy
Candidacy attracted more attention than usual, after Joe Biden announced his, in a tweet stating that he was running for president.
The core values of this nation… our standing in the world… our very democracy...everything that has made America -- America --is at stake. That's why today I'm announcing my candidacy for President of the United States. #Joe2020 https://t.co/jzaQbyTEz3

— Joe Biden (@JoeBiden) April 25, 2019
We define candidacy as "the state of being a candidate," and before anyone gets worked up about that particular definition, a candidate is "one that aspires to or is nominated or qualified for an office, membership, or award," "one likely or suited to undergo or be chosen for something specified," or "a student in the process of meeting final requirements for a degree."
Both candidacy and candidate may be traced back the Latin word candidus, meaning "white." Some candidates for office in ancient Rome would wear a white toga; we have no information as to whether this will affect Biden's sartorial choices in the coming months.
Marsquake
Marsquake, a word which has not, in our estimation, demonstrated sufficiently the qualities necessary to qualify for inclusion in the dictionary, was much in the news as well last week, following a seismic event on the red planet (Mars).
On April 6, NASA's InSight lander sensed its first confirmed marsquake, a phenomenon scientists suspected, but couldn't confirm, occurred on the neighboring planet. Measuring the Martian equivalent of earthquakes, seismic waves traveling through the interior of the planet, was among the lander's key science goals.
— Maghan Bartels, space.com, 23 Apr. 2019
We do provide definitions for moonquake ("a seismic event on the moon") and starquake ("a hypothetical violent shiver in the crust of a neutron star"); if Mars keeps acting this way it seems quite possible that we will end up with an entry for marsquake as well.
Endgame
Endgame, the title of the forthcoming Avengers movie, remained higher in lookups this past week, as fans of the movie franchise desperately scoured the web for any form of content relating to this movie, whether textual analysis or video, which they had not yet viewed or read seventeen times.
There are few movies coming out this year that are guaranteed to print money as quickly as Avengers: Endgame.
— Yohana Desta, Vanity Fair (vanityfair.com), 25 Apr. 2019
We define endgame as either "the stage of a chess game after major reduction of forces" or "the final stage of some action or process." The chess use (and occasionally found in checkers as well) is the word's earliest sense, dating back to the middle of the 19th century.
The Chess Monthly for April—Now Ready—Contents: Knightly Chess, with six illustrative diagrams; an End Game, English Chess Glossary; stray hints on various Openings; Five Games, Five Problems, Miscellaneous Zatrikiologica.…
— (advt) New York Daily Tribune, 5 Apr. 1858
Niggle
Coverage of a cricket match in the Indian Premier League (between Royal Challengers Bangalore and Kings XI Punjab) lead to a spike in lookups for the noun niggle. We define the noun as "a trifling doubt, objection, or complaint," and the verb as "gnaw," "trifle," or "to find fault constantly in a petty way." The etymology of the word is unknown.
Kings XI Punjab won the toss and ops to bowl first. Two changes for KXIP. Sam Curran and Harpreet Brar miss out. Nicholas Pooran and Ankit Rajpoot come in. Two changes for RCB too. Dale Steyn has some niggle in the shoulder. Tim Southee comes in. Finally, Washington Sundar gets a game. Pawan Negi misses out.
— Outlook (outlookindia.com), 24 Apr. 2019
Our Antedating of the Week: deranged
For our antedating of the week we have chosen the adjectival form of deranged, as many people became quite excited about this word when George Conway used it as a sobriquet for Donald Trump, in their ongoing Twitter logomachy.
Deranged Donald is at back at it again. Deranged Donald can do things like this and it's not even the top of the news, because it gets lost beneath all of the other deranged things Deranged Donald does. #DerangedDonald https://t.co/Us2LnIthVb

— George Conway🌻 (@gtconway3d) April 25, 2019
Our earliest record of use, in the sense "disturbed or disordered in function, structure, or condition," had come from 1771. Recent findings have shown deranged (with the same meaning as above) in use several decades prior.
That all these Symptoms spring from the deranged Tone of the Stomach may be proved, by the Change of Tonus in the Fibres of the Membrana Pituitaria in some Fevers.
— John Astruc, A treatise on all the diseases incident to women, 1743
---