Word History
A Brief History of the 'Task Force'
Our objective is clear.
---
English has many areas of jargon that have given us specialized words which then have broadened and moved into generalized use. The military is responsible for many of these; words such as deadline and blockbuster started off being used exclusively in militaristic settings, before taking on new and expanded meanings.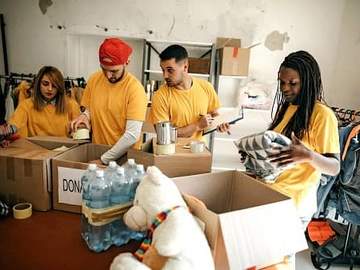 Meaning and History of 'Task Force'
In current use task force most often carries the meaning "a temporary grouping under one leader for the purpose of accomplishing a definite objective."
President-elect Joe Biden has pledged to create a task force for separated families.
— Catherine Rampell, The Washington Post, 24 Nov. 2020
The word has been in use since the 1920s, and its earliest meaning was a distinctly militaristic one: "a temporary grouping of armed forces units under one commander for the purpose of accomplishing a definite usually operational objective (as taking an island from an enemy)." This use appears to have begun in the United States Marines, before spreading to other branches of the armed forces in the 1930s.
It should be noted that in no place in the order is any subordinate task force commander told how he shall execute the task (what to do) assigned him.
— E. W. Broadbent, Marine Corps Gazette (Quantico, VA), Dec. 1929

For tests of the fighting values of the various task forces and type groups of the United States Fleet, some 100 ships and 350 planes of the fleet put to sea yesterday for five days of tactical exercises.
— The Los Angeles Times, 16 Nov. 1937

A task Force, composed of one composite company of three platoons of three squads each will embark in boats of the U. S. Power Squadron and leave here at 12:30 p.m., Saturday June 10th, and proceed to Monroe State Park, Monroe, Michigan, where a ship to shore landing exercise will take place.
— Leatherneck (Quantico, VA), Jul. 1939

Like any task-force designed to ward off thrusts from the air and sea (and like its prototype, the Coast Artillery), the Defense Battalion embodies a group of varying weapons which range from antiaircraft guns, machine guns and searchlights to seacoast-batteries equipped with Navy five-inch guns and machine-guns for beach-defense.
— Robert D. Heinl, Marine Corps Gazette (Quantico, VA), Mar. 1940
Usage Outside the Military
It did not take long for task force to expand beyond the armed forces; it began being applied in non-military use during the Second World War. The first group to adopt the term were businesspeople:
Our task force for the job consists of commercial banks, working in concert with our manufacturers and traders.
— Chicago Daily Tribune, 24 May 1943

Advertisements, created by volunteer "task forces" drawn from leading advertising agencies, are sponsored by business firms and publishers.
— The New York Times, 18 Mar. 1948
Today, most uses of task force are sufficiently far removed from the armed forced that its military roots seem almost obscure. Yet it is one of a number of compound force nouns that we have from this source; air force, land force, and D-day force all came from similar origins, but have not taken on the same extended sense as task force … yet.
---