Trend Watch
Per Se
A scathing restaurant review drove lookups
---
A scathing review in the New York Times for one of the most expensive and famous restaurants in New York sent people to the dictionary.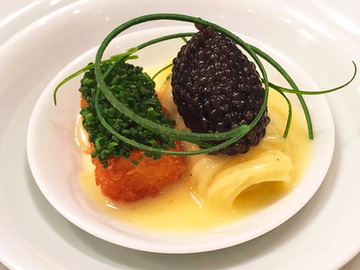 Photo:

Per Se Restaurant / Instagram
Per Se dropped from four stars to two, according to the Times food critic Pete Wells:
With each fresh review, a restaurant has to earn its stars again. In its current form and at its current price, Per Se struggled and failed to do this, ranging from respectably dull at best to disappointingly flat-footed at worst.
Per Se, the name of the restaurant, is also an adverb in English that means "by, of, or in itself" or "intrinsically" or simply "as such." As a restaurant name, it implies that it places itself in its own category, "a landmark restaurant in and of itself," as Wells writes—presumably above all others. The fact that dinner for four cost nearly $3000 caused some schadenfreude to be expressed on Twitter:
Remember when people defended the Guy Fieri restaurant, saying that it wasn't trying to be Per Se?

— Levi Dalton (@leviopenswine) January 12, 2016
embed://twitter.com/benleventhal/status/687002022764277761
Per se is pronounced "per say," which may explain why many people looked up the term; it's frequently misspelled.
Other very common Latin expressions that are used in English include ad hoc, alter ego, carpe diem, de facto, and et cetera.
---
---