Trend Watch
Obama: Different 'Sartorial' Decisions
Searches up 3800% after portrait unveiling
---
Sartorial spiked on February 12, 2018, when former President Obama used the word during the ceremony to unveil his official portrait. In his remarks following the unveiling, Mr. Obama thanked the artist, Kehinde Wiley, who wore a black-and-white striped suit for the occasion at the Smithsonian's National Portrait Gallery. Obama, who is depicted in the portrait in a dark blue suit and was also wearing a similarly plain one at the ceremony, acknowledged in his remarks that he and Mr. Wiley make "different sartorial decisions."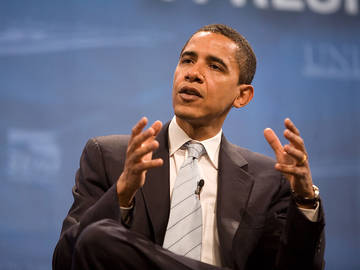 Photo:

Center for American Progress Action Fund
Sartorial means "of or relating to clothes," or, more specifically "of or relating to a tailor or tailored clothes." It comes from the Latin word sartor, meaning "tailor" or "patcher of clothes" and is most frequently used regarding high-end or traditional men's clothing.
The word previously spiked when then-President Obama wore a tan suit to a press briefing in August of 2014, causing a stir that some on social media described as "the audacity of taupe."
---
---