1
: of, relating to, or devoted to this world and its pursuits rather than to religion or spiritual affairs
worldly

possessions/pleasures
Not for wealth, in its vulgar sense, had he ever sighed; not for the enjoyment of rich things had he ever longed; but for the allotted share of

worldly

bliss which a wife, and children, and happy home could give him …
— Anthony Trollope
Religious fervor, which the crusaders had in spades, did not preclude or even hinder their

worldly

ambition.
— Stephen O'Shea
2
: possessing or displaying significant experience and knowledge about life and the world :

worldly-wise
… a wealthy, fabulously successful gay businesswoman who blows stuff up and dispenses

worldly

wisdom in equal amounts.
— Piers Marchant
… took the occasion to impart a bit of

worldly

advice.
— Erich Segal
The essays collected here counterpose two groups of men: "the

worldly

men" of "covetous ambition," in the words of poet Henry King, and those whom they pushed aside in their scramble to the top.
— Michael S. Kimmel
Which Word Does Not Belong?
Which of these words does not mean "nonsense"?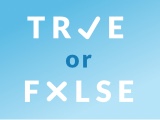 Test your knowledge - and maybe learn something along the way.
TAKE THE QUIZ