1
—
used to emphasize the truth of a statement
No kidding, the test is tomorrow.
2
—
used to ask if a statement is really true
"The test is tomorrow." "No kidding?"
3
—
used to show surprise or interest in what has been said
"My brother got engaged last month." "No kidding! That's great news!"
—
often used in an ironic way in response to a statement that is regarded as very obvious
"If we don't start going faster, we're not going to finish on time." "Gee, no kidding."
Return of Name that Color!
Name that color: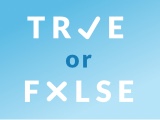 Test your knowledge - and maybe learn something along the way.
TAKE THE QUIZ