: to be aware of how something is changing, what someone is doing, etc.
There's so much going on that it's hard to keep track.
—
usually + of
Keep track of your little brother for me, will you?
It's her job to keep track of how the money is spent.
I watch the news to keep track of current events.
Odd Habits and Quirks
Which of the following best describes an easily irritated person?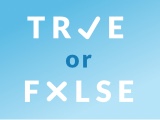 Test your knowledge - and maybe learn something along the way.
TAKE THE QUIZ