: of or relating to anatomy or the body structure of organisms
anatomical

studies/structures/mechanisms
The mollusks are divided according to common

anatomical

traits into seven classes …
— Carol M. Lalli and Ronald W. Gilmer
Mayberg has been mapping

anatomical

areas of the brain that are either hyperactive or inactive in depressed men and women.
— Siddhartha Mukherjee
Diabetes mellitus is characterized by a broad array of physiologic and

anatomic

abnormalities, but its most notable feature is disturbed glucose metabolism, which results in inappropriate hyperglycemia.
— George F. Cahill, Jr. et al.
Return of Name that Color!
Name that color: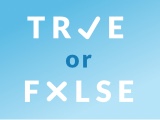 Test your knowledge - and maybe learn something along the way.
TAKE THE QUIZ