Definition of affirmative action
: the use of policies, legislation, programs, and procedures to improve the educational or employment opportunities of members of certain demographic groups (such as minority groups, women, and older people) as a remedy to the effects of long-standing discrimination against such groups
Note: Affirmative action gives limited preference to qualified groups (which may include racial and ethnic minorities, women, older people, people with disabilities, and some veterans) in job hiring, admission to institutions of higher education, the awarding of government contracts, and other social benefits.
The term

affirmative action

was … used in an executive order issued by President Johnson in 1965, which banned all federal contractors and subcontractors, as well as unions involved in federal work, from practicing employment discrimination.
— Michael L. Levine
Unlike previous measures, such as the Civil Rights Acts of 1964 and 1965, which prohibited discrimination, the goal of

affirmative action

was to adopt a proactive approach to redressing past discrimination. It goes beyond the prohibition of overtly racist practices by requiring employers, public contractors, and college admissions officers to cast a wider net in their searches for qualified workers and students through active recruitment of racial minorities.
— Shirley J. Yee et al.
Name That Food
Name these cookies!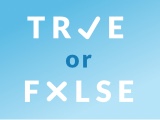 Test your knowledge - and maybe learn something along the way.
TAKE THE QUIZ