Words of the Year
'They' Is Merriam-Webster's Word of the Year 2019
Take a deeper dive on our 2019 pick
---
Merriam-Webster's Word of the Year is determined by data: the word must have been a top lookup at Merriam-Webster.com in the past twelve months, and it must have seen a significant increase in lookups over the previous year.
Our Word of the Year for 2019 is they. It reflects a surprising fact: even a basic term, among the most common in the language—a personal pronoun—can rise to the top of our data. Although our lookups are often driven by events in the news, the dictionary is also a primary resource for information about language itself, and the shifting use of they has been the subject of increasing study and commentary in recent years, and especially in the past year. Lookups for they increased by 313% in 2019 over the previous year. This curiosity is remarkable for a venerable old pronoun, but this is a special case, and a consequence of shifts in the way they is used.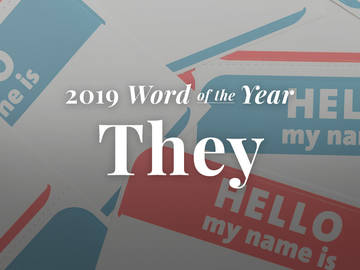 English famously lacks a gender-neutral singular pronoun to correspond neatly with singular pronouns like everyone, someone, and anyone, and as a consequence they has been used for this purpose for over 600 years. Much of this use is unremarkable:
Everyone likes pizza, don't they?
No one has to come if they don't want to.
More recently, though, they has also been used to refer to one person whose gender identity is nonbinary, a sense that is increasingly common in published, edited text, as well as all over social media and in daily personal interactions between English speakers. There's no doubt that its use is established in the English language, which is why it was added to the Merriam-Webster.com dictionary this past September. The addition of this new sense, "used to refer to a single person whose gender identity is nonbinary," did itself create a spike of interest in the word, but a substantial increase in lookups for they had been occurring all year to that point—with lookup numbers nearly double from the previous year.
Nonbinary they was also prominent in the news in 2019. Congresswoman Pramila Jayapal (WA) revealed in April during a House Judiciary Committee hearing on the Equality Act that her child is gender-nonconforming and uses they. Singer Sam Smith announced in September that they now use they and them as pronouns. And the American Psychological Association's blog officially recommended that singular they will be preferred in professional writing over "he or she" when the reference is to a person whose gender is unknown or to a person who prefers they. It is increasingly common to see they and them as a person's pronouns in Twitter bios, email signatures, and conference nametags.
Nonbinary they takes a plural verb, despite referring to one person, which can make the grammatically conservative uncomfortable. It's helpful to remember that the pronoun you was initially plural, which is why it too takes the plural verb even when it's referring to a single person. "You are" has, of course, been perfectly grammatical for centuries, and it's worth noting that thee and thou were long ago completely displaced by singular you in standard speech and writing—concrete evidence of the constant evolution of language. We don't even notice the singular use of you today, and it's quite possible that the nonbinary they is headed for a similarly unremarkable fate—only usage and time will tell. In the meanwhile, the word is spending some time in the spotlight in 2019.
For the other words that stood out this year, check out the full list of Merriam-Webster's Words of the Year.
For more information on how we chose this year's Word of the Year, go behind the scenes with Editor at Large Peter Sokolowski.
Check out the new words of the year at out 2020 Words of the Year List
---