Words We're Watching
Words We're Watching: 'Nibling'
An efficient word for your sibling's kids
---
What to Know

Nibling is a gender-neutral term used to refer to a child of one's sibling as a replacement for "niece" or "nephew". The word is thought to have been coined in the early 1950s, but was relatively obscure for several decades before being revived in recent years.
Are you someone who has a sibling or siblings with multiple offspring of varying genders you'd like to refer to efficiently? Would you like a single word that could apply generally to all of them, be they infants, wee ones, tween or teen ones, or even full-blown adults? Perhaps you'd appreciate a word that was something like the word sibling itself, which refers quite neatly to the other children of one's parents, regardless of gender.
Well, we have some news: such a word exists. It's not yet entered in our dictionaries, but it's out there, and it's being used with increasing frequency: nibling.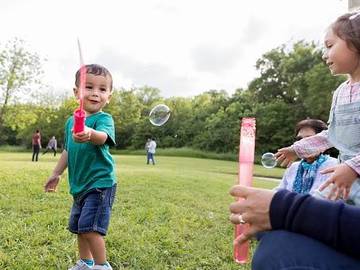 That's right: nibling. Its ibling comes from sibling, of course, and its n comes from niece and nephew.
Origins of Nibling
The word's coinage is widely credited to Samuel E. Martin, a professor of Far Eastern linguistics at Yale University who is better known for many things, among them developing a romanization system for transliterating Korean. The year 1951 is commonly attached to his coinage, but we've been unable to find the primary source information.
Nibling, however, mostly languished in linguistic obscurity for its first five decades of existence. Merriam-Webster received a letter from a writer in Blain, Pennsylvania, concerning the term in 1996, but the reply our correspondent received informed him that we had no evidence of it in use.
Increase in Use and Popularity
As the previous millennium has receded, however, nibling has started to show signs of life. We received another letter concerning the word in 2005, this time from a correspondent in Ft. Lauderdale. And evidence of the word in use began to appear in print as well, though more often on the other side of the proverbial pond:
Schoolchildren in Paulton are campaigning to get a new word into the English dictionary. They are urging friends and family to use the word 'niblings' instead of the phrase nieces and nephews in an attempt to earn it a place in the Oxford English Dictionary.
— Chris Allen, The Bristol (UK) Post, 30 Apr. 2004

The Guardian recently published a report on a woman talking about her "auntistic" relationship with her "niblings." You quickly realise that the words wrapped in ICs are "not real words" in the sense of existing in dictionaries (though that may change). Yet their meanings are clear: "auntistic" in the manner of an aunt; "nibling" an ingenious, gender-neutral collective term, on the model of "sibling," for nephews and nieces.
— Ruth Wajnryb, The Sydney (Australia) Morning Herald, 19 June 2004
In 2005, nibling was a runner-up in the New Word Challenge of the Independent on Sunday (London) newspaper, a contest run in collaboration with the good people at Collins Dictionary. The word is in fact entered in the Collins Dictionary, albeit as of 2012, and as a user-submitted term. Its "Approval Status" is "Pending Investigation."
Examples closer to home exist as well:
In a recent column, I bemoaned the lack of a gender-neutral term for nieces and nephews. Lillian Kezerian of Hartford already has one—"niblings." "It's not original with me," she writes, "and I honestly don't remember where I first saw it. My nieces and nephews have liked it."
— Rob Kyff, The Hartford (Connecticut) Courant, 23 May 2006
As the second decade of the new century comes to a close, the word continues to be more common in the UK (and elsewhere) than in the US, but it is showing some signs of increased use here as well. In 2018 the word was featured in a trivia quiz in The Toledo (Ohio) Blade: "In the world of family relationships, what is a 'nibling'?" The answer was "a niece or nephew."
But in British sources, the term is undeniably less mysterious:
She looked delighted to be spending time with her goddaughter Leonor, who is the daughter of her brother André Sampaio, and was born in February 2017…. her darling nibling …
— no byline, The Daily Mail (UK), 4 Nov. 2018

This is how it goes for my nephews and nieces (henceforth, niblings) each Christmas morn, when my packages finally reach their grubby little paws. Issued directly from the North Pole, these are their own, personal and private letters from Santa Claus …
— Séamas O'Reilly, The Observer (London), 16 Dec. 2018
If nibling has for most of its history merely puttered along, it is now moving with new purpose. While initially considered useful for its efficiency, as seen in the Séamas O'Reilly quote immediately above, it is now increasingly called upon as a means to gender accuracy:
My "nibling," the gender-neutral term for nephew or niece, is neither male nor female, but both.
— "Proud Aunt," "Ask Amy" in The Chicago Tribune, 9 Jan. 2014

There was that benevolent look for his genderqueer "nibling" (read: gender-neutral niece or nephew). It was big-eyed and full of wonder with a smile that gave you warmth.
— Joey Hood, The Nashville (Tennessee) Scene, 23 June 2016

Another [fan] suggested the term "nibling" to the singer, which is widely considered a gender-neutral term for a sibling's child.
— Chantal Da Silva, The Independent (UK), 24 July 2017
Poke around a bit on the Internet and you will find that it is popping up all over, and being embraced with pleasure. The future of nibling at this point looks pretty bright.
Words We're Watching talks about words we are increasingly seeing in use but that have not yet met our criteria for entry.
---