---
Traditionally, the word editorial operates firmly within the realm of the written word. As a noun, it most often refers to a newspaper or magazine article (or an online equivalent) that gives the opinions of that publication's editors or publishers. As an adjective, editorial is most often about the work of editors—that is, the people whose job it is to prepare written material for publication or presentation by making changes, correcting mistakes, etc.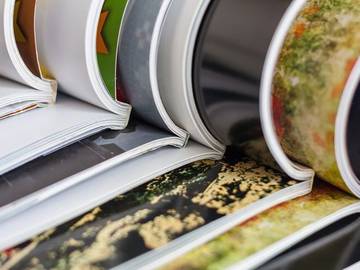 And so it is that the following use of editorial caught the eye of one of Merriam-Webster's own:
I'm on the hunt for a vintage living room sectional. I want something 70's and vintage and weird. But it also needs to be something super editorial and while simple and comfortable, something that really says 'me'.
— Emily Henderson, Emily Henderson (stylebyemilyhenderson.com), 20 May 2019
A sofa that is … editorial?
Something That Looks 'Editorial'
Our colleague asked for clarification in the blog's comments and the following was left in reply:
In this context, [editorial] usually means something outside the box, higher end, meant to inspire vs being super practical and functional. Like the styled outfit shoots in a fashion magazine like Vogue differ from an article about the best sneakers to wear at Disneyworld.
The use isn't just appearing on websites about design:
This [nude eyelashes] trend feels very editorial, like some kind of ethereal alien and I love it. Instead of lashings of black mascara this used a nude colour to coat your lashes.
— IMAGE, 21 Sept. 2018

Hester Sunshine has titled her collection 'Cyber Rococo' or 'Y2K Coco,' She wants everyone to get ready for something 'extra'. The first look is very 'extra'. It is very fun. It is also VERY editorial. Les thinks it could work for a ballet.
— Tamara Tattles, (tamaratattles.com, blog), 14 June 2019
Tracing the New Use of 'Editorial'
In broadest terms, this new use of editorial means "visually striking, especially in a way that evokes high fashion."
It mostly appears in British and Australian English sources as of this writing, but it's not particularly new at all:
Fashion people have an expression—"very editorial"—to describe clothes that look stunning in magazine fashion shoots but which nobody in their right mind would actually wear.
— Jess Cartner-Morley, The Guardian (London), 9 Mar. 2001
The use seems to have its origin in the world of advertising and the images used therein. In the specific context of print advertising, editorial photography is often contrasted with advertising photography: in the former, the photographs are used to tell a story or to express a mood; in the latter, they sell a product. Since the 1990s, the word editorial has been applied as a descriptor of ads that blur the line between the two:
Developed by San Francisco's Kevin McPhee & Associates, the [magazine ad] campaign depicts world-class skiers posed informally on the slopes in Marmot gear, alongside newsy bits of copy relating the skiers' most exhilarating experiences. The copy appears in alternative typefaces, like those used on the editorial spreads of magazines that speak to younger, more adventurous readers. "We wanted the ads to look very editorial," explained David Begler, who wrote the campaign, "and we chose people who are hardcore skiers to convey the message that, with this outerwear, people can have peak experiences of their own."
— DNR (The Daily News Record), 9 Oct. 1995
The practice of course quickly spread beyond print:
A new lifestyle program premiering this weekend on the Ten network originally set out to disguise "advertorials" as editorial content. "The whole idea is you're not supposed to know the difference between advertorial and editorial," the program's creator, Tony Ellis, told Media two weeks ago. Australia's Property Hotspots features stories about real estate made by a property developer, Ellis, and his wife, Anna McMahon, who hosts the show.... The series director, Brett Head, said: "It's all shot so that it looks very editorial. It's very different from any other type of advertorial program." According to Ellis, companies pay to be featured in the stories. "We charge $9900. For that they get a three-minute advertorial and 50 VHS copies of the program."
— John Little, The Australian, 12 Aug. 1999
And what of advertorial, addressed in the quote above? That word has been used to refer to an advertisement that imitates editorial format—that is, to editorial ads—since the early 20th century, but it hasn't strayed from its original meaning; no one is looking for an advertorial sofa.
Reader, this editor can certainly understand. Editorial is a much more editorial word.
Words We're Watching talks about words we are increasingly seeing in use but that have not yet met our criteria for entry.
---