---
Most people, when they decide that whatever they've been writing on a computer is of sufficiently good quality that they would like to keep it, will opt to save this material by clicking on a small icon near the top of the program. This 'save' icon is shaped like a floppy disk (a double misnomer insofar as it was neither floppy nor round), which is a thing that people used to save data from their computers on, back in the good old days before boring old people liked to tell you how good the old days were. This sort of representation of things which seem to have strayed from their origins is widespread in our daily lives, and the English language abounds with examples of it.
The B-side of The English Patient? Warlight, by Michael Ondaatje, reviewed.
— (Headline) The Spectator (London, Eng.), 9 Jun. 2018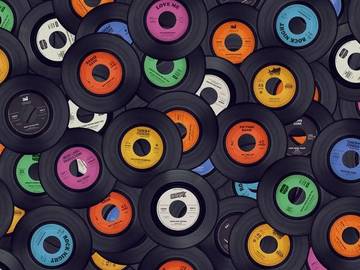 What is the B side, and can books (and other non-musical things) have them? Initially, a B side was a song on the second side of a record, often one which was thought inferior to the one found on the A side (in the early 20th century music was released to the public on vinyl or shellac discs, and for several decades these discs could only fit a single song on each side).
Paul Whiteman, of whose handiwork Victor still seems to have an ample supply, even though the rotund director has for quite some time been absent from the Victor fold, offers two fox trots of Southern flavor. "Dixie Dawn" seems somewhat better than "Louisiana," even though it is the "B" side of the record.
– The Arkansas Gazette (Little Rock, AR), 8 Jul. 1928

The B side of this record presents Thibault in Masefield's poem "Sea Fever," as set to music by Ireland.
– Hilmar B. Grondahl, The Oregonian (Portland, OR), 16 Oct. 1932

It is coupled on the B side of a nondescript tune by Jan Garber and orch.
– Down Beat, Jun. 1935
The B side was also referred to as the flip side (because one had to remove a record from the platter and flip it over before listening to the other side).
It might be interesting to note that the flip side of Danny Kaye's "Bloop Bleep," contains a number that you should hear.
— The Desert Sun (Palm Springs, CA), 5 Aug. 1947

The flip side, "Them There Eyes." is played as an instrumental with the same titans featured.
— The Pittsburgh Courier, 30 Aug. 1947
Flip side appears to have entered our language slightly later than B side (in the 1940s, as opposed to the 1920s), but it has also taken on an extended meaning ("a reverse or opposite side, aspect, or result") more thoroughly than its predecessor.
Steep Drop and Surging Panic Show Bitcoin Has a Flip Side.
— (Headline) The New York Times, 23 Dec. 2017
B side is today occasionally found in fairly extended use, as when it above described a book. It has been retained, in somewhat less extended use, in the language of the recording industry long after records were the preferred medium for music. What about A side? Did this term for the more desirable part of the disc ever catch on? There is considerable evidence of use of A side during the early and mid-20th century, but in spite of the letter A's propensity for serving as a qualitative affix (A-list, A game), it has not taken on the same breadth of meaning and use as flip side and B side have.
My Heart Stood Still and I Feel at Home With You, by George Olsen (Victor). The A side is runner-up in our contest, but the B is a come-down.
– Radio Broadcast, Apr. 1928

The A side is one of those smooth, slow fox trots with melody and harmonies reminiscent of spirituals.
– The Idaho Statesman (Boise, ID), 14 Jun. 1929
In recent years the humble record has made a comeback, and there are numerous new aficionados of many different forms of this technology. If you lack the requisite interest or money that is needed to collect vinyl 33s or shellac 78s, there's still a way for you to participate in this musical nostalgia: you could start peppering your speech with outdated terms related to the recording industry, starting with A side. If that's useful for you, maybe flip it over and see what's on the back.
Words We're Watching talks about words we are increasingly seeing in use but that have not yet met our criteria for entry.
---