---
Update: This word was added in September 2020.
To flex means to move or contract the muscles; flexing the biceps in your arm, for example, makes them appear more prominent, and so often we flex as a pose to indicate strength, as in front of a camera or mirror. Naturally, the figurative phrase flex one's muscles means to demonstrate one's strength or aptitude.
The former actress has already flexed her muscles while fulfilling her royal duties since announcing her engagement to Prince Harry last November. Earlier this year, she joined Harry and the Duke and Duchess of Cambridge as a patron of The Royal Foundation.
— Katie O'Malley, Elle.com, 8 Aug. 2018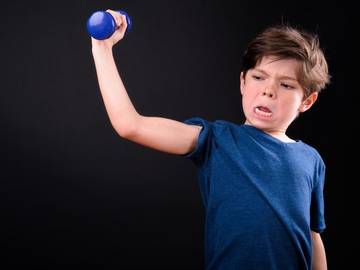 The internet and social media has consequently picked up the word to refer to figurative acts of flexing, when we show off for our audience.
Hezonja was feeling himself after the dunk and made a point to step over Giannis, who had fallen to the ground after the block attempt. … No other than Joel Embiid left a comment on the Instagram video, trolling the Knicks player for his flex on Giannis.
— Heavy.com, 1 Dec. 2018

Never to be mixed with the nerds on Twitter or the inspirational meme queen that is your grandmother on Facebook, Instagram is for abs. It's for luxury. It's for the flex. So it should come as no surprise that the most liked post on the social media platform was once from Kylie Jenner, who used the platform to announce her daughter's name to an astounding 18 million likes.
— Justin Kirkland, Esquire.com, 14 Jan. 2019

Drake approached Pusha T's insults on "Daytona" with a similarly blasé bluster. The same day that the track was released, he responded with the "Duppy Freestyle." His flow on the song was lean and casual. He accused Pusha T of inflating his past as a cocaine dealer, and gloated about helping Kanye West on his song "30 Hours," from 2016's "The Life of Pablo." The next day, he doubled down, dropping "I'm Upset." He's barely rapping in it. "I'm upset / Hunnid thousand on my head, it's disrespect" sounds more like a whine. In Drake logic, this was a flex; even in attack mode, he can hardly be bothered. It's all a little funny to him. It rolls off his tailored tracksuit.
— Doreen St. Félix, The New Yorker, 1 June 2018
The noun flex for an act of braggadocio is most likely to be encountered in the phrase "weird flex but OK," which has become a Twitter meme used to call out instances when one's bragging about an accomplishment or other piece of information seems inappropriate for the occasion or raises more questions than answers about the person making the claim.
In September 2018, the phrase went viral after a Twitter post made by YouTube comedian Sarah Schauer questioned remarks made in a Fox News interview by Supreme Court Justice Brett Kavanaugh about his sexual history.
Weird flex but ok https://t.co/zyVQ8Oj0xo

— sarah schauer 🦂 (@sarahschauer) September 24, 2018
As The Daily Dot notes,
Kavanaugh made the odd claim to refute allegations that he had attempted sexual assault on accuser Christine Blasey Ford at a party in high school, and exposed himself to another woman when he was in college. The punchline, of course, is that neither woman alleged that Kavanaugh had intercourse with them—forced or otherwise—which made it sort of eyebrow-raising information to volunteer.
— Stacey Ritzen, The Daily Dot, 27 Sept. 2018
The first known use of "weird flex but ok" occurred in December 2017, when a college student named Finn Feighery replied to a post by the human rights activist Malala Yousafzai with a sarcastic response to a tweet listing the highlights of the year previous.
In 2014, the hip-hop duo Rae Sremmurd released their first single, titled "No Flex Zone"; that phrase has since come to refer to a place where the posturing and aggressiveness that can be associated with flexing are tempered down, leaving a chill environment for all.
Following in the footsteps of flex is stunt, a verb that also describes showing off with an over-the-top action, often one with a particular target as an audience.
Netflix is stunting on the haters who accuse the company of ruining the traditional movie-going experience, not only by investing in theatrical screenings of original content but literally buying its own cinema–specifically, the historic Egyptian Theatre in the heart of Hollywood.
— Brittany Martin, Los Angeles Magazine, 9 Apr. 2019

On Saturday night, Beyoncé and JAY-Z strolled into the NAACP Image Awards, probably knowing good and well that they were stunting on all of us. The husband and wife of 10 years attended the Hollywood occasion looking like a million bucks as Bey modeled a white structured dress and Jay rocked a black double-breasted suit.
— Brea Cubit, PopSugar, 31 Mar. 2019
Before you go flexing or stunting, make sure you stretch first.
Words We're Watching talks about words we are increasingly seeing in use but that have not yet met our criteria for entry.
---