Words of the Week
The Words of the Week - 4/10/20
Some of the words that defined the week of April 10, 2020
---
Welcome to The Words of the Week, in which we look over some of the good, the bad, and the semantically imprecise words that tickled your curiosity this past week. Please note that bad is used here in a vague fashion; we do not really think of any words as bad (although sometimes they are a bit unruly).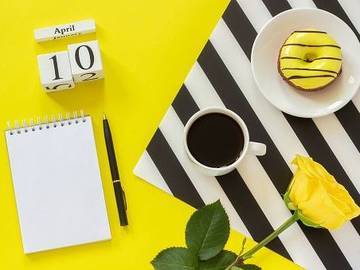 'Intensive care'/'comorbidity'
The continuing COVID-19 pandemic was once again responsible for many of the words in the news this week, including medical terms as familiar as intensive care and as uncommon as comorbidity.
Boris Johnson is out of intensive care. The British prime minister's office announced Thursday that medical workers have moved him back to the regular ward at St. Thomas' Hospital in central London, where he continues to receive treatment for persistent symptoms linked with COVID-19.
— Colin Dwyer, NPR (npr.org), 9 Apr. 2020

When combined with Covid-19 in the body, people already suffering from chronic illnesses or from comorbidity suffer the worst health outcomes. The underlying conditions increase a patient's chance of hospitalization and even death.
— Fabiola Cineas, Vox (vox.com), 8 Apr. 2020
Intensive care may be defined as either "continuous monitoring and treatment of seriously ill patients using special medical equipment and services" or "a unit in a hospital providing intensive care." The latter of these senses is also referred to as the intensive care unit, or the [ICU}(/dictionary/ICU).
Comorbidity is the noun form of comorbid ("existing simultaneously with and usually independently of another medical condition"), and refers to a case in which a patient has two simultaneous ailments. The constituent parts of this word are co-, a common prefix in English which in this case carries the meaning of "with" or "together," and morbidity. This second part comes from the Latin word for "disease." This Latin word (morbus) serves as the root of a number of English words, including morbific ("causing disease"), morbid ("of, relating to, or characteristic of disease"), and, possibly, collywobbles (this word for "bellyache" is thought to have come about as an alteration of the New Latin cholera morbus, literally, the disease cholera).
'Exempt'
Exempt was also on the minds of many people last week, as a number of states declared that religious gatherings and institutions would not be subject to the same regulations as secular ones.
The US churches and pastors ignoring 'stay-at-home' orders Concerted effort to protect religious freedoms is playing out as some states exempt houses of worship from stay-home orders
— Richard Luscombe, (headline) The Guardian (theguardian.com), 5 Apr. 2020
The word can function as an adjective, noun, or verb; it was commonly used last week was the verb, meaning "to release or deliver from some liability or requirement to which others are subject." Exempt, just like morbific comes from Latin; it can be traced to eximere, which means "to take out."
'Suspend'
Suspend was much in the news last week, after Bernie Sanders announced that this was what he was doing to his presidential campaign.
Bernie Sanders is suspending his 2020 presidential campaign, ceding the Democratic nomination to Joe Biden after a string of losses last month crippled his campaign.
— Holly Otterbein and David Siders, Politico (politico.com), 8 Apr. 2020
We have a number of senses in our definition for suspend; the one which appears most apt to this setting is "to cause to stop temporarily." People have occasionally noted that presidential campaigns are often suspended with more of a final nature than a temporary one. This would appear to be a recent use of the word; when people first made reference to suspending a presidential campaign, back in the 19th century, it was typically in the "stop temporarily" sense.
It would be well for Mr. Blaine to suspend his Presidential campaign until his gets his friend Dorsey out of the star-route scrape.
— Neodesha Free Press (Neodesha, KS), 10 Mar. 1882
In the late 20th century we have evidence of presidential campaigns which were stopped with little expectation of renewal being referred to as suspended.
Bayh announced last week he was suspending his presidential campaign, and Udall said he was disappointed he did not get Bayh's endorsement.
— The Selma Times-Journal (Selma, AL), 7 Mar. 1976
Our Antedating of the Week: 'stockpile'
Our antedating of the week is stockpile, since many people have been doing a lot of it these past few weeks, and there's nothing like a good antedating to muse upon while you sit there in your basement, counting all the things you bought but likely won't use. Our previous earliest known dates of use had come in 1872 for the noun and 1921 for the verb. These have been pushed back to 1860 and 1885, respectively. Stockpile (in both parts of speech) was originally found mostly in mining terminology, rather than in reference to the hoarding of cleaning supplies during a pandemic.
There are in Marquette three iron companies, all of which are engaged in quarrying and shipping iron, and together employ about 450 men in the summer season. In the winter, a "stock pile" is accumulated, to insure a supply for the loading of vessels upon the opening of navigation.
— The Merchants' Magazine and Commercial Review (New York, NY), 1 Dec. 1860

Amount of ore stock-piled at the Ashland and Germania mines for the week ending Tuesday, Nov. 24: Ashland, 828 tons; Germania, 295 tons.
— Montreal River Miner and Iron County Republican (Hurley, WS), 26 Nov. 1885
---