Words of the Week
The Good, The Bad, & The Semantically Imprecise - 9/28
The words that defined the week of September 28th, 2018
---
Welcome to The Good, The Bad, & The Semantically Imprecise, in which we look over some of the words that tickled your curiosity this past week. Please note that the word bad is used here in a semantically vague fashion; we do not really think of any words as bad (although sometimes they are a bit unruly).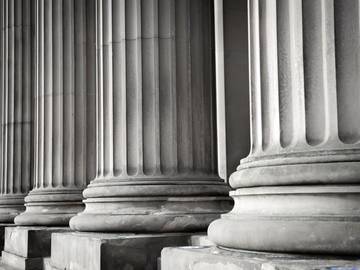 Early in the week a great deal of attention was focused on Deputy Attorney General Rod Rosenstein, who, depending on who was reporting, was said to either be on the cusp of quitting or soon to be fired. It turned out that neither happened, and while the air is still pregnant with indecision we cannot offer any information on possible outcomes. We can, however, be of some assistance in explicating the difference between quitting and resigning, should the need of using one or both of these words come up soon.
Acquisition had a moment of glory last week, after President Trump appeared to confuse it with accusation (in a tweet about "false acquisitions"). While it is true that these words are of a similar age (both entered English use around the end of the 14th century), both come from Latin, and each one contains an A, at least one C, and a U, they are nonetheless distinct words with different meanings. Acquisition, which may be traced to the Latin acquīrere (meaning "to acquire") is generally concerned with gaining things; accusation, from the Latin accūsāre ("to blame, charge with a crime") is "a charge of wrongdoing" or "the act of accusing someone."
Laughingstock was the word of choice among many headline writers this past week, after a speech delivered by Trump at the United Nations was found risible by his audience.
Trump is a Laughing Stock
— (headline) The Guardian, 25 Sept. 2018

Trump is the laughingstock of the world
— (headline) The Washington Post, 25 Sept. 2018

President Trump Is Literally the Laughingstock of the World
— (headline) Rolling Stone, 25 Sept. 2018

Trump's U.N. Speech Was a Laughingstock Until It Was a Terror
— (headline) Esquire (esquire.com), 25 Sept. 2018
We define laughingstock as "an object of ridicule," and the earliest record we have of its use it precisely 500 years old. We have no plans of arranging a birthday celebration for the word, however, as such dates are often fluid.
With weapyn or armour / as one redy to fyght

Usurpyng wrong honour: to lyueng repugnant
And where he by order is called chrystes knyght
Te be a worldly rybaude / the name is dissonant
And thynge nat lesse vyler / is to be ignorant
Of maners vncomly: ageyst all honeste
As fable or laughyng stocke / of lewdest commonte
— Dominicus Mancinus, Here Begynneth a Ryght Frutefull Treatyse (trans. by Alexander Bercley), 1518
Following his speech at the United Nations Trump gave a press conference, during which he stated his opinions on the allegations leveled against his recent nominee for the Supreme Court. In the course of delivering remarks Trump made use of one of his frequently employed terms, con job.
He rejected all three allegations of sexual assault against Judge Brett M. Kavanaugh as false. Democrats, he said, were "dishonest people" running a "con job" on the American public.
— Lisa Lerer, The New York Times, 26 Sept. 2018
A con job is a scam; the initial con is short for confidence, and is defined as "something (such as a ruse) used deceptively to gain another's confidence." Con job has been in use since the early 1940s.
During his years of service, first with the Royal Poinciana Hotel, and later with the Breakers, when the former was closed, no important "con" job was pulled there. He took a great pride in his knowledge of criminal characters, and during the boom days met all incoming trains with the view to seeing that undesirable characters were spotted before they had a chance to get rooted in the community.
— The Palm Beach Post (West Palm Beach, Fl.), 26 Jan. 1941
The Senate Judiciary Committee held hearings on Thursday, September 27th, in which Dr. Christine Blasey Ford and Brett Kavanaugh were each questioned regarding Ford's accusation that Kavanaugh had attempted to rape her several decades ago. The hearings were closely watched by millions of people, and a large number of words spiked as a result. Among the words which spiked during Dr. Ford's testimony were sequelae, collegial, hippocampus, indelible and exculpatory.
Indelible shares a root with delete; both words come from the Latin delēre ("to delete"). The word used by Dr. Ford in her testimony has added a prefix of negation (in-) and taken the meanings such as "that cannot be removed, washed away, or erased," "unforgettable," and "lasting."
Among the words which spiked during Brett Kavanaugh's testimony were scintilla, vilify, flatulence, bork, and boof.
Boof was one of the more lexically challenging words from the hearing, as the intended meaning of the word is somewhat in dispute. The word aroused interest after it was found in Kavanaugh's high school yearbook, in the sentence "Bart, have you boofed yet?"
"I don't know if it's 'buffed' or 'boofed,' how do you pronounce that?" Sen. Sheldon Whitehouse (D-RI) asked Kavanaugh. "That refers to flatulence," Kavanaugh responded. "We were 16."
— Alex Abad-Santos, Vox (vox.com), 27 Sept. 2018
We define boof as "the sound made by a dog," and only provide an entry for the noun, not the verb form seemingly used in Kavanaugh's yearbook. It is not entirely surprising that our definition appears to not match the given usage, as we would typically not define an instance of slang which was as geographically and chronologically limited as this sense of boof appears to be (although the attention the word receives from these hearings may change that).
The Oxford English Dictionary gives a definition that is similar to ours, although they split it into more senses and also define it as an interjection. J. E. Lighter's Random House Historical Dictionary of American Slang has no entry for the word. The Dictionary of American Regional English offers two noun senses: "a scare" and "peach brandy," neither of which seems relevant to the use in question. Green's Dictionary of Slang defines the word as "contraband hidden in the rectum," but also specifies that it is prison slang, a linguistic register that may not overlap overmuch with that of high school. There was speculation in the press that the intended meaning was of a decidedly more sexual nature than flatulence, but contemporary citational evidence is still being gathered. (We also have not as yet defined any sense of Devil's Triangle.)
For our antedating of the week we return to one of the words which spiked in lookups from the Senate Judiciary Committee hearings, exculpatory. The word is defined as "tending of serving to exculpate (to clear from alleged fault or guilt)," and our previous earliest known use had occurred in 1781. Recent findings show that the word dates to the beginning of the 18th century, with use at least as far back as 1722.
How far the Students were prevailed upon to go in to this Bond, I do not know; but it being exculpatory as to former Practices, as well as obligatory in time to come, it may be doubted if it was proper to be signed by most Part of the Boys, who probably were not altogether Strangers to some Share in the former Gatherings.
— Robert Woodrow, The History of the Sufferings of the Church of Scotland, 1722
---