---
A friend looks different. Her hair is shorter and not the same color as it was. Her makeup is totally on fleek. Ooh, you say, did you get a makeover?
The term makeover, as used to refer to the changing of a person's appearance with the assistance of cosmetics, coiffure, and couture, dates back to at least the 1960s. The more general meaning of the word, "an act or instance of making over," as in "a makeover of the tax system," dates to the 1920s.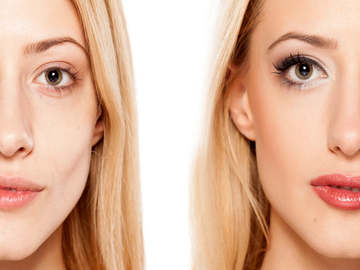 In its cosmetic sense, makeover has a newer companion word: makeunder. As in,
Julia Roberts is more than just dressed down in her new thriller Secret in Their Eyes—she was given a complete makeunder for her role. The Oscar winner's skin is pale, her lips are dry and she's sporting bangs that appear as if she cut them herself at home.
— Marc Malkin, E! News (eonline.com), 5 Nov. 2015
It's also styled as make-under:
Movie stars are generally known as the "beautiful people," but sometimes actors and actresses must undergo make-unders to play certain roles. Many of Hollywood's most beautiful talents have gotten "ugly" for a role.…
— Melissa Thomas, Movie Pilot (moviepilot.com), 6 Mar. 2016
Makeunder doesn't always (or even usually) refer to a change that makes someone look less beautiful, though. It more typically signals something more flattering:
Taylor Swift … suddenly ditched the platinum blonde dye job she's been sporting … and went back to her natural, darker honey hue. Her makeover (or makeunder, really) didn't stop there; over the past few weeks, Taylor has gradually dropped the dramatic goth-glam style she's been pushing lately…. On June 15th … Taylor was dressed in a blue, several-years-old Madewell dress paired with preppy oxfords and a mustard cardigan.
— Elana Fishman, Racked (racked.com), 24 June 2016
It's this use, where the term means something like "a changing of a person's appearance to be less showy," that mirrors the one most often used in British English—a meaning helped along by a popular reality show called "Snog Marry Avoid?," which ran on BBC Three from 2008 to 2013. On the show, a disembodied stylist-bot called POD (for "Personal Overhaul Device") takes people who wear heavy makeup and flamboyant clothes and accessories and gives them more "natural" looking, toned-down (and some say boring) looks.
Neither of these meanings, however, is the one found in the earliest evidence of makeunder that our preliminary research has uncovered. In that example, the word has to do with combining a kind of emotional therapy with an update to one's appearance:
A makeunder is something like a cosmetic makeover, although the effect, as described by [image consultant] Ms. [Dinah] Day, appears more than skin deep: "A makeunder is accomplished on-camera with you describing the areas of your personal life that have not been working out so that we can more visually interpret what it is you really want in yourself and therefore require in a male partner."
— Georgia Dullea, The New York Times, 18 July 1986
That meaning seems to have been quite short lived. The more common modern use of the word appears to date to the late 1990s:
Rather than having women go for makeovers, [makeup artist Bobbi] Brown suggests "makeunders." It's better to use a light touch with makeup than to be heavy-handed.
— Trish Donnally, The San Francisco Chronicle, 20 Feb. 1997
Later in 1997, the debut of Jane magazine offered the word a regular platform:
Jane [magazine] covers beauty, fashion, celebrities and entertainment. Drew Barrymore is on the cover of the first issue. A neurosurgeon writes about the New York fashion shows. A makeover, called "The Jane Makeunder," suggests less rather than more makeup.
—Catherine Crocker, The Times-Picayune (New Orleans, Louisiana), 13 Sept. 1997
Currently it looks like both modern meanings—the one having to do with making someone look not as good as they usually do and the one having to do with toning down a showy appearance—are plugging along in the language. We'll be watching to see if one displaces the other, or if both become fully established.
Words We're Watching talks about words we are increasingly seeing in use but that have not yet met our criteria for entry.
---