Words We're Watching: 'Galentine's Day'
Oh, it's only the best day of the year.
Update: This word was added in September 2022.
Many people have a kind of love-hate relationship with Valentine's Day: the holiday is disparaged as a manufactured holiday foisted upon us by greeting card companies, and there's often a sense that it's only for people who are romantically paired, making it feel rooted in exclusion.
All of which sets the stage perfectly for Galentine's Day.
That's right: Galentine's Day—a day for women to celebrate their friendships with their lady friends. It's Valentine's Day with your gals.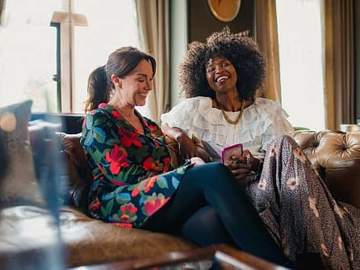 The word—a blend of Valentine's Day and gal—was introduced to the world by the chipper and dedicated Leslie Knope, the fictional Deputy Director of the Parks and Recreation Department of the also-fictional city of Pawnee, Indiana, in the NBC comedy Parks and Recreation, which ran from 2009 to 2015.
What's Galentine's Day? Oh, it's only the best day of the year. Every February 13th, my lady friends and I leave our husbands and our boyfriends at home, and we just come and kick it, breakfast-style. Ladies celebrating ladies. It's like Lilith Fair, minus the angst. Plus frittatas.
— "Galentine's Day," Parks and Recreation, 2010
After that 2010 debut, the word was mentioned in episodes that aired in 2012 and 2014, and by 2016 evidence of the word's appeal was starting to show up in national and international publications, as people everywhere embraced the very idea of a holiday for celebrating friendships. Its lexical success is also clearly signified by the marketing campaigns it's inspired, as Megan Garber detailed in The Atlantic in 2017. We're also seeing evidence of galentine being used on its own to refer to one's best "gals"—beloved female friends.
The word follows in the footsteps of Friendsgiving, which was added to Merriam-Webster.com in January 2020, and is defined as "a celebration or meal shared among friends on or near Thanksgiving Day."
Its comedic pedigree also places it in the lineage of spam (the unsolicited email that inundates our inboxes is called spam in a nod to a Monty Python's Flying Circus skit in which chanting of the word SPAM overrides the other dialogue), as well as Debbie Downer, a term that refers to a negative or pessimistic person, and was popularized, if not introduced by a Saturday Night Live skit featuring just such a person. (Debbie Downer was played by Rachel Dratch, colleague to Amy Poehler, the actor who played Leslie Knope.)
While some have complained that Galentine's Day excludes anyone who's not a woman, efforts to assert its inclusivity are afoot, with some claiming it's in fact for celebrating any kind of friendship. If the term does come to be used in this broader way, it'll challenge the term's etymology, but that's a minor hurdle for English. Just how we define Galentine's Day if and when it qualifies for entry is yet to be seen, but if there's evidence of it being a celebration of platonic love of all varieties that's how we'll define it.
Words We're Watching talks about words we are increasingly seeing in use but that have not yet met our criteria for entry.