Trending:
Lookups spiked
25,000%

on March 24, 2019
Exonerate was our top lookup on March 24th, 2019, following the word's appearance in a letter written by William Barr, US Attorney General, summarizing the findings of the report recently concluded by Special Counsel Robert Mueller.
The Special Counsel states that "while this report does not conclude that the President committed a crime, it also does not exonerate him."
— William P. Barr, letter to Lindsey Graham, Dianne Feinstein, Doug Collins, and Jerrold Nadler, 24 Mar. 2019
We define two senses of exonerate: "to relieve of a responsibility, obligation, or hardship," and "to clear from accusation or blame."
In use in English since the early 16th century, exonerate comes from the Latin exonerare, meaning "to unburden." In much of its early English use the word retained the meaning of "unburdening," in both figurative and literal senses.
Wherfore nowe vsynge the sayinge of seynt Poule, I do exhort you in our lord god, that you his subiectis do exonerat your selfes of al maner of groundes or occasions that might brede any vnkyndnes in his hart toward you.
— Henry VIII, A glasse of the truthe, 1532
Trend Watch is a data-driven report on words people are looking up at much higher search rates than normal. While most trends can be traced back to the news or popular culture, our focus is on the lookup data rather than the events themselves.
Which Word Does Not Belong?
Which of these words does not mean "nonsense"?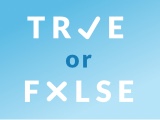 Test your knowledge - and maybe learn something along the way.
TAKE THE QUIZ