Definition of throw
(Entry 1 of 2)
1
a
: to propel through the air by a forward motion of the hand and arm

throw

a baseball
b
: to propel through the air in any manner a rifle that can

throw

a bullet a mile
2
a
: to cause to fall threw his opponent
b
: to cause to fall off :

unseat

the horse threw its rider
c
: to get the better of :

overcome

the problem didn't

throw

her
3
a
: to fling (oneself) precipitately threw herself down on the sofa
b
: to drive or impel violently :

dash

the ship was thrown on a reef
4
a
(1)
: to put in a particular position or condition threw her arms around him thrown into chaos threw him into prison
(2)
: to put on or off hastily or carelessly threw on a coat
b
: to bring to bear :

exert

threw all his efforts into the boy's defense

throw

their weight behind the proposal
5
: to give by way of entertainment

throw

a party
6
: to indulge in : give way to threw a temper tantrum
7
: to lose intentionally

throw

a game
8
: to form or shape on a potter's wheel
9
: to deliver (a blow) in or as if in boxing
10
a
: to make a cast of (dice or a specified number on dice)
12
: to send forth :

project

the setting sun threw long shadows
also
:
shed
sense 3b
throw

some light on the matter
13
: to make (oneself) dependent : commit (oneself) for help, support, or protection threw himself on the mercy of the court
14
: to perform (something, such as a stunt) successfully

throwing

tricks on a skateboard
15
a
: to bring forth

throws

a good crop
b
: to give birth to threw large litters
16
a
: to move (a lever) so as to connect or disconnect parts of a clutch or switch
also
: to make or break (a connection) with a lever
b
: to put (an automobile) in a different gear especially quickly or suddenly he threw the car into reverse
18
: to twist two or more filaments of into a thread or yarn
throw cold water on
: to discourage especially through pessimism or indifference
throw money at
: to spend large sums of money on or for especially recklessly or ineffectively trying to solve problems by throwing money at them
throw one's weight around
or
throw one's weight about
: to exercise influence or authority especially to an excessive degree or in an objectionable manner
throw to the wolves
: to leave unprotected against fierce opposition or attack
throw together
1
: to put together in a hurried and usually careless manner a bookshelf hastily thrown together
2
: to bring into casual association different kinds of people are thrown together

— Richard Sennett
Definition of throw (Entry 2 of 2)
1
a
: an act of throwing, hurling, or flinging
b
(1)
: an act of throwing dice
(2)
: the number thrown with a cast of dice
c
: a method of throwing an opponent in wrestling or judo
2
: the distance a missile may be thrown or light rays may be projected
3
a
: a light coverlet (as for a bed)
b
: a woman's scarf or light wrap
5
: the amount of vertical displacement produced by a geological fault
6
a
: the extreme movement given to a pivoted or reciprocating piece by a cam, crank, or eccentric :

stroke
b
: the length of the radius of a crank or the virtual crank radius of an eccentric or cam
a plan in which a last survivor takes all
Get Word of the Day daily email!
The Eponym Quiz
Which is the best synonym of bowdlerize?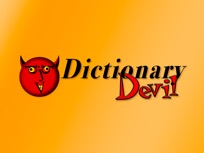 Test Your Knowledge - and learn some interesting things along the way.
TAKE THE QUIZ