Essential Meaning of preposition
grammar
: a word or group of words that is used with a noun, pronoun, or noun phrase to show direction, location, or time, or to introduce an object
The preposition "on" in "The keys are on the table" shows location.
The preposition "in" in "The movie starts in one hour" shows time.
Full Definition of preposition
: a function word that typically combines with a noun phrase to form a phrase which usually expresses a modification or predication
Difficult Spelling Words Quiz
Which is the correct spelling?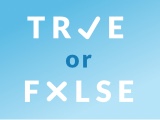 Test your knowledge - and maybe learn something along the way.
TAKE THE QUIZ