Definition of play around
1
: to have sex with someone who is not one's husband, wife, or regular partner He's not the kind of guy who plays around.

—

often + onShe's been playing around on her husband.

—

often + withShe's been playing around with one of her coworkers.
2
: to deal with or treat something in a careless way When it comes to protecting his family, he doesn't play around.

—

often + withYou can't play around with diabetes; it's a very serious disease.
3
: to use or do something in a way that is not very serious It's time to stop playing around and get busy.

—

often + onI spent the evening playing around on the piano/computer/Internet.

—

often + withI'm not really a painter; I just like to play around with paints.
4
: to move or change something or to think about something in different ways often in order to find out what would work best

—

+ withI see you've been playing around with the living room furniture again.The supervisor played around with our work schedules this week.We played around with the idea for a while but eventually realized that it just wouldn't work.
Obscure Shapes
Something that is ooid is shaped like: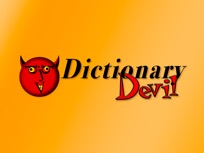 Test Your Knowledge - and learn some interesting things along the way.
TAKE THE QUIZ