: a mythical animal that is reported chiefly from the western U.S. and is reputed to be the size of a small deer and to have the body of a jackrabbit and the horns of an antelope
Though stories mentioning horned creatures and animal hybrids exist in cultures and texts worldwide, in the U.S., the

jackalope

was "invented" by a creative hunter in Wyoming—paving the way for tourist attractions and cementing its place as a classic Americana relic.
— Kara Goldfarb
Do you really have the willpower to pass up snapping a photo of yourself with the 80-foot brontosaurus and giant stuffed

jackalope

out front?
— Bob Howells et al.
With a load of this brand of alcohol warming his belly, if a cowboy says he can lick double his weight of

jackalopes

, there's no doubt that he can't.
— Donald E. Getz
Papilloma viruses cause the hornlike growths in rabbits that probably gave rise to myths of "

jackalopes

" in the American West.
— Matthew Herper
Name That Food
Name these cookies!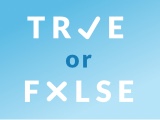 Test your knowledge - and maybe learn something along the way.
TAKE THE QUIZ