---
Update: This word was added in February 2017.
It's that special something—typically a quality, ability, or practice—that makes a person or thing successful or distinctive: the secret sauce.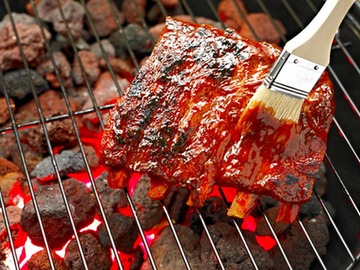 Secret sauce is most commonly used to describe the thing that helps someone or something flourish:
The secret sauce of the NHL is how even it is, [Lightning owner Jeff Vinik] Vinik said. The Tampa Bay Lightning can compete on equal terms with the Toronto Maple Leafs.
—Ira Kaufman, The Tampa (Florida) Tribune, 1 March 2016

"Enron's secret sauce was its ability to look at all the independent factors that could affect the market and, in a risk-conscious way, create a sophisticated analysis that gave it a real edge," says Ethan Cohen, an Aberdeen Group senior analyst.
—Steve Konicki, Information Week, 21 January 2002

If leadership has a secret sauce, it may well be humility. A humble boss understands that there are things he doesn't know.
—The Economist, 26 January 2013
These special somethings often are not actually secret. Hence the common variant, special sauce:
Massive upfront sales, increased user engagement, and recurring revenue are the special sauce that leads to the company's prodigious free cash flow.
—James Sullivan, The Motley Fool, 26 August 2015

The product … allows people to create electronic greeting cards, photo albums and other digital doodads with sound, animation and pictures. The special sauce: with the click of a button, the creations can be e-mailed to a friend, who can, in turn, make gizmos of his own.
—Jared Sandberg, Newsweek, 12 April 1999
And of course both literal and culinary versions of the term continue to be employed—restaurants brag about their secret sauce or special sauce as much as grandma does. Those of a certain age may associate special sauce specifically with a McDonald's ad for its Big Mac sandwich, which listed ingredients typical for a double cheeseburger, with the exception of the vaunted "special sauce."
But it's secret sauce we hear about more these days—especially in figurative use, which has been increasing over the past decade or so. In the past few years we've seen a new construction, where the term is used simply as a synonym of secret in the sense of "something that is held to be the key to a desired result":
What beats markets is rational behavior. And rational behavior understands that patience is the secret sauce to long-term, market-beating gains.
—Sham Gad, TheStreet (thestreet.com), 10 March 2016
Whatever the construction, both sauces secret and special are ingredients increasingly found in writing, especially in business contexts. Yum.
Words We're Watching talks about words we are increasingly seeing in use but that have not yet met our criteria for entry.
---