Word History
Where 'Cliff-hangers' Come From
You're on the edge of your seat to find out
---
Most of you likely are familiar with the word cliff-hanger ("an adventure serial or melodrama, especially one presented in installments each ending in suspense"), but have you ever paused in the middle of viewing one to wonder whether its origins were literal? After all, it has a number of synonyms, such as hair-raiser and nail-biter, which do come, more or less, from describing an actual physical state; did cliff-hanger come into use from someone actually hanging off a cliff? Yes and no.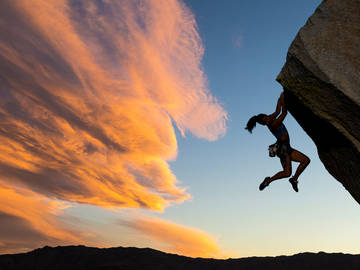 The word came into English in the early 1930s, during the golden age of serials. These narratives (both in radio and film) were split into a series of episodes, and since it was necessary to entice the audience back for each subsequent one, installments would often end on a dramatic note; someone, for instance, hanging from a cliff.
U Will Glorify Cliff Hangers In 4 Serials—Maybe 6. Glorifying the firemen and the brave lads of circuses and plains in its current serials, Universal will continue its Ziegfieldian activities next year.
— Variety, 14 Jan. 1931

Universal started the serial parade last year, and now not only is Radio set on a program of episodes but the cliff hangers will also be made by Metro and Paramount.
— Variety, 16 Feb. 1932

One factory that grinds out "cliff-hangers"—serials—offer and hire experienced writers for as low as $35 per week. Twice their worth, at that.
— The Akron Beacon (Akron, OH), 8 Jan. 1934
For the first few years of its existence cliff-hanger was found primarily in the pages of Variety magazine. As is the wont of such words which are successful, it soon broadened in use and meaning, and by the 1950s began to take on the meaning "a contest whose outcome is in doubt up to the very end," especially in describing sporting contests.
Aside from two smashing defeats at the hads of the Chicago Bears, virtually every game the Rams played was a cliff-hanger, fraught with peril and suspense right down to the final gun.
— Frank Finch, The Daily Boston Globe, 25 Dec. 1955
Cliff-hanger is hardly the only such word to have come about in such fashion. Tearjerker ("a story, song, play, film, or broadcast that moves or is intended to move its audience to tears") is similar, originating in the early 20th century from descriptions of such works which were intended to elicit a weepy response from their audience.
Some writers who are on the Socialistic and economic "tear-jerker" trend to literature (the sort that makes you love your neighbors a whole lot, and pity and want to "elevate" them) agreed to go in on the plan and co-operate….
— The Morning News (Wilmington, DE), 18 May 1906

Arthur Bagwill starts his act by reciting a tear jerker entitled "My Pal."
— The Courier-Gazette (McKinney, TX), 26 mar. 1912

But if any one ever wants to write a melodramatic tear-jerker of a movie, this incident will furnish a plethora of material for the "Search for the Sweet."
— Picture-Play Magazine (New York City, NY), Apr. 1918
Likewise, shoot-'em-up ("a movie, television show, or computer game with much shooting and bloodshed") dates from the early 20th century, and although we now mainly associate this genre with movies and video games, its earliest use was in the theater.
"The Flower of the Ranch" is not a "shoot-em-up opera," for there is but one shot fired during the action of the play, and that is "off stage."
— Grand Forks Daily Herald (Grand Forks, ND), 7 Jul. 1911

"The Train Robber," a Pleasing Drama, Not a Shoot 'Em Up.
— Evansville Courier and Press (Evansville, IN), 21 Feb. 1913
It's useful in life to have at one's disposal a small set of facts, slight but timely, which one can pull out at an opportune moment and either impress or annoy one's peers. Now you're suitably ready, the next time you have a viewing party for some breathtaking final episode of a series, to lessen the tension by being aggressively nerdy and explaining how the cliff-hanger got its name.
---