---
Update: This word was added in September 2020
The names of animals, when used to refer to people, are not neutral. A rat is "a contemptible person" whereas a lion is "a person of outstanding interest or importance." Being called cat might be cool but being called a dog is usually not.
Fox is a word that has not just one positive anthropomorphized quality, but two: cleverness and attractiveness. A term with a more specific positive connotation is silver fox, generally meaning "an attractive middle-aged man having mostly gray or white hair."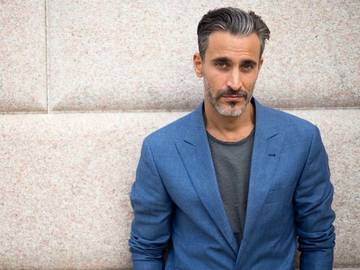 As currently defined, silver fox refers to:
: a genetically determined color phase of the common red fox in which the fur is black tipped with white
In the 1920s, major league pitcher Jess Petty's nickname was "The Silver Fox," and both he and his moniker were well-documented in newspaper accounts of his games. It can be difficult to tell if "Silver Fox" in this instance refers to Petty's ability or his appearance, but some context from a recent history of the period provides a clue:
"Tony" caps a 4-for4 day with a big home run blast to left off the second oldest pitcher in the league, Jess Petty, adding yet another touch of white to the Fox's mop with his fourth run batted in.
— Rex D. Hamann, The Millers and the Saints: Baseball Championships of the Twin Cities Rivals, 1903-1955, 2014
So, Petty had the nickname because of his age and graying hair. The term was later used in a way that referred to appearance and attractiveness but in contexts that didn't specify romantic desirability:
Climbing out of his boat, the old silver fox of U. S.-speed-boating, Gar Wood, defender of the Harmsworth Trophy, smiled contentedly.
— TIME, 3 October 1932

A dapper, white-haired aristocrat whose socks always matched his ties, he looked like a slick silver fox.
— TIME, 17 August 1953
It was clearly also the nickname of other (cunning) men with gray or white hair:
Victor A. Johnston, 66, longtime Republican senatorial campaign director, known as "the silver fox of Capitol Hill" because of his handsome white mane and his sharp nose for turning up election funds.
— TIME, 24 March 1967
Given the focus on appearance in the use of this term, it's not surprising that it would be used when referring to aging male actors:
In tonight's premiere episode, you learn in the very first scene that, playing against type, Dick Van Dyke (who, like [Andy] Griffith has aged handsomely into the silver fox stage) is a murderous judge who has killed his young mistress in a fit of jealousy.
— Steve Sonsky, The Miami Herald, 23 September, 1986

[John] Forsythe is probably best remembered for the role of the silver fox Blake Carrington in ABC's prime time soap opera Dynasty, which ran from 1981 to 1989.
— The Week, 8 April 2010

Thanks to his prematurely gray hair and chiseled features, 47 year old John Slattery has been primetime's staple silver fox for almost twenty years.
— Mark Ellwood, New York Daily News, 15 August 2009

Steve Carell Hilariously Reacts to All the Attention His Silver Fox Look Is Receiving
— Jackie Willis, ET Online, 27 June 2017
Silver fox is sometimes used to refer to women with gray or white hair as well (in fact, the bestselling exercise video Richard Simmons and the Silver Foxes from 1987 clearly meant both men and women, since they perform the workout together behind the fitness guru), but many uses make clear reference to the fact that the term usually designates men:
Good on her [Demi Moore] for showing it's not only men who can get away with the silver fox look.
— Emma Cowing, _Scottish Daily Mail, 11 June 2016

Hollywood's Female Silver Foxes: Women Who Rock Gray Hair
— Diana Pearl, People, 18 April 2017
One term sometimes used here is silver vixen, as vixen is the word for a female fox and already has the meaning "a sexually attractive woman," but so far this is much more rare than silver fox.
She's the ultimate in sexy silver vixens. And we're celebrating her 70th birthday tomorrow with 70 facts from the amazing life of Dame Helen Mirren.
— Clemmie Moodie, Daily Mirror, 25 July 2015
As these two terms continue to be used, we'll be watching them. Like a hawk.
Words We're Watching talks about words we are increasingly seeing in use but that have not yet met our criteria for entry.
---