Words at Play
The Modern Goings-On of 'Bespoke'
And can you afford them?
---
Some people have very similar feelings regarding the meanings of words and the memories of places visited in childhood: it's better if they remain unchanged. It can be disconcerting to discover that the scenes of one's youth are less idyllic than you remember, just as it can be when realizing that a word such as bespoke might refer to something other than clothing.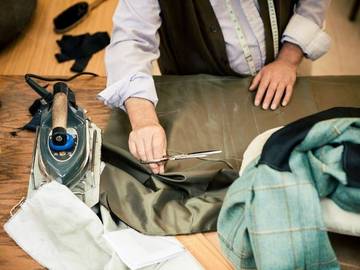 The bespoke pizza was delicately made with a whiskey-infused base, topped with a secret recipe tomato sauce, and combined with crispy bacon, Cashel blue cheese from Co. Tipperary and Jameson-infused apple.
— Galen English, The Daily Mail (London), 20 Mar. 2009
To borrow another recent spin on an old term, what fresh hell is this? How did we go from the bespoke suits of Savile Row to the bespoke pizza of a place whose name is beside the point? Well, pretty much the same way as always: through semantic drift. Suits, whether from Savile Row or elsewhere, were not the first things to be described as bespoke.
Bespoke is an adjective, which comes from the past participle of the verb bespeak, which has been with us since Old English. Bespeak has had an arrangement of meanings far more varied than simply being a slightly longer and Old-Englishy way of saying "speak"; it has also meant "to complain," "to accuse," and "to order or arrange in advance." Before we adopted bespoke as an adjective we were using bespoken in this part of speech, used primarily since the late 15th century with the meaning "spoken or spoken of."
The duc Nestor was grete of membrys and longe, and well bespoken, discrete and prouffitable, and gaf alleway good counceyll.
— Raoul Lefèvre, The Historyes of Troye, 1473
When bespoke began to see widespread use, in the middle of the 18th century, it was often found describing things that one wears. However, it was not yet applied to suits; our earliest records of bespoke clothing are for corsets (referred to below as stays) and footwear.
Just imported in the Success , Capt. Isaack , from London , an of china, glass and earthen ware, pickles in cases, and pickled walnuts in small kegs ... variety of brocaded and plain silks, Genoa velvet, newest fashion ribbands, tabby stays (the same as bespoke work), satin and other quilted petticoats, with choice of other goods to be sold by William Stone....
— (advt.) The (Charleston) South Carolina Gazette, 22 Jan. 1752

In all the different branches, keeps an assortment ready made, of Men's Boots and Shoes, Women's Stuff and Leather Shoes, and Pumps, and Children Shoes; bespoke work made with care and expedition.
— (advt.) The Carlisle (Pennsylvania) Gazette, 1 Aug. 1787

John Rice, Boot and Shoe-Maker, From Dublin.... Bespoke Work done in the neatest and most fashionable manner.
— (advt.) The Northern Star (Belfast, Ireland), 19 Jun. 1793
However, we were not only using bespoke in reference to custom-made corsets and shoes. In the second half of the 18th century the word was also found in the theater, to describe plays which were made to order.
As to Mr. Brown's own merit as a player I will not insist upon it, because to be sure ... nobody can have any merit out of London, otherwise I really should have suspected this man must have some nature about him, as the audience, the other night at a bespoke play, committed violence upon their features, by laughing very heartily at Bays....
The Centinel (Dublin, Ireland), 7 Apr. 1757

However, a bespoke play filled the house, and the actors with the expectancy of a large dividend at the end of the farce, which was of Whitely's own writing—The Humbug.
— Charles Lee Lewis, Memoirs of Charles Lee Lewis, 1805
When did the bespoke suit enter the picture? This is a relative newcomer, at least in terms of being a fixed lexical phrase. Our earliest evidence of the bespoke suit comes in the middle of the 19th century.
Hyam's Bespoke Department. Bespoke Suits, 2 Pounds 12 Sh. & 6 Pence
— The Scotsman (Edinburgh, Scotland), 18 Aug. 1869
In recent years bespoke appears to have greatly broadened its applicability to such an extent that it now is routinely used to describe things which not only have little to do with apparel, they are also non-corporeal.
Whatever your pleasure, these slick sites allow you to create bespoke vacations by clicking on destination and activity boxes that call to mind the virtual storefronts of sites like Gilt and Rue La La.
— Stephanie Rosenbloom, The New York Times, 18 Nov. 2012

The BBC's commercial arm plans to offer bespoke web content for specific international audiences—for example, there may be a US-themed version of the Top Gear website.
— Neil Midgley, The Daily Telegraph (London), 30 May 2008
Cynics have opined that the spread of bespoke is driven by the idea that goods which are modified by this adjective tend to cost more money. This may in fact be true, but even if so, does not change the fact that the new meaning of the word ("custom made") is not very new at all. We're just extending it beyond clothing, which was not its sole province to begin with.
---