---
If you've ever brought a special bottle of wine to a nice restaurant you're familiar with the word corkage. It's the fee a restaurant charges you to open and serve wine you've brought. But how about if you show up with dessert?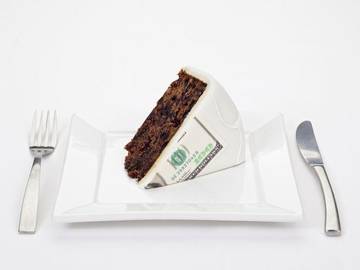 Say you're celebrating a loved one's birthday at a gastropub downtown and you want to bring a birthday cake from your local bakery. Be warned: it's possible that you could be confronted with cakeage when you get the check. That's the fee a restaurant charges to serve you and those in your party a dessert you've brought (and very possibly bought) for the occasion.
Preliminary research dates this term at least as far back as 1991 when San Francisco Chronicle writer Herb Caen alerted his readers to the danger: "We all know that if you bring your own bottle of wine to a restaurant you get charged a corkage — but! If you bring your own birthday cake, you could be charged a cakeage."
Either everyone in San Francisco was like, "Uh, ok, fine..." or the restaurants decided to put the kibosh on the practice, because after a second 1992 San Francisco example the word is absent from the Lexis-Nexis database of news publications until 1996 when cakeage is suddenly something the Australians are having to budget in. New Zealanders were next, and then the Brits. The term is still rare in the U.S., but if you dine out and are in the habit of bringing your own cake you may want to call ahead and ask about cakeage.
#wordswe'rewatching talks about words we are increasingly seeing in use but that have not yet met our criteria for entry.
---