Words We're Watching
Words We're Watching: 'Ghost Kitchen'
When your dinner seems to come from out of nowhere.
---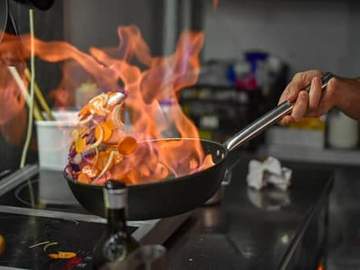 Update: This word was added in October 2021.
To the paranormal adventurers who may have arrived looking for otherworldly thrills: we're sorry if you got your hopes up.
The term ghost kitchen refers to an establishment that cooks and sells food to be delivered to a residence, but that, unlike a restaurant, doesn't have its own space for dining or pickup.
Both the concept and the term saw expanded use during the height of the COVID-19 pandemic, as restaurants were forced to close to indoor dining and gatherings in public spaces were dissuaded.
He had been about to open his third restaurant. Instead, he turned that space into a ghost kitchen, creating a short menu of popular items, ponying up for the hefty fees charged by third-party delivery companies, and spending thousands of dollars on takeout containers and paper bags.
— Priva Krishna, Bon Appétit, 19 Apr. 2021

Customers who want a taste of Ivan Ramen can order online for delivery or pickup. The ghost kitchen is also selling steamed pork buns, spicy kyuri pickles, Japanese beer and five kinds of sake. All of Ivan Ramen's ghost kitchens use ramen noodles made by Sun Noodles in New Jersey, the same company that supplies Orkin's New York City shop.
— Sarah Blaskovich, The Dallas Morning News, 17 May 2021
The concept goes by a number of other names, including virtual kitchen, shadow kitchen, and cloud kitchen, all terms that draw attention to the enterprise's lack of physical space. Although the pandemic drew attention to ghost kitchens as an alternative business model for struggling restaurateurs, evidence for the term dates to an earlier time:
Chinatown cafe Chimney Coffee opened its ghost kitchen in Hollywood last September to help fulfill orders from the UberEATS app. … The kitchen—which has no storefront and doesn't directly serve customers—doubles as a place to prep the cafe's house-made bacon and sausages, and service the extra 200 to 250 orders a week that come through the UberEATS app.
— Tracey Lien, The Los Angeles Times, 18 Mar. 2017

New York City is the country's largest market for food delivery. So it was only natural that a new business model for food delivery, called a ghost kitchen, would emerge here. Ghost kitchens host food establishments, usually fast-casual, that make meals that can be purchased exclusively with a delivery app like Seamless or DoorDash. Ghost kitchens can house extensions of existing restaurants or new brands. But customers cannot order takeout or eat in a restaurant attached to the kitchen.
— Jonah Engel Bromwich, The New York Times, 27 Dec. 2019
And before that, ghost kitchen could simply be an evocative phrase for a kitchen hidden from sight, which informs the idea of the business having no concrete presence:
We were alone on this vast plantation in the middle of a strange land, and our son could sing about Jesus and no one would hear him. We ate in the plantation house and a lone waiter brought us impossibly delicious dishes from what seemed to be a ghost kitchen.
— Lisa Reed, The New York Times, 28 Dec. 2008
Will ghost kitchens continue to be a thing if restrictions on restaurant dining are lifted? Only the shadow knows.
Words We're Watching talks about words we are increasingly seeing in use but that have not yet met our criteria for entry.
---