Words We're Watching
Social Justice Warrior
An often mocking term for one who is seen as overly progressive
---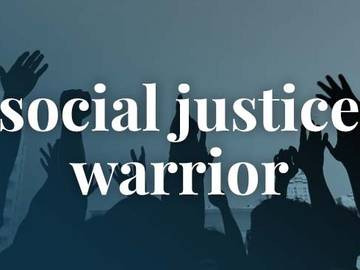 What does social justice warrior mean?
Social justice warrior is an often mocking term for one who is seen as overly progressive or left-wing. It's often abbreviated as SJW.
Where did social justice warrior come from?
Our earliest records of social justice warrior come from the 1940s, and the term is used entirely without sarcasm.
Rt. Rev. John. A Ryan Dies; Social Justice Warrior
— (headline) The Catholic Advance (Wichita, KS), 21 Sept. 1945 However, this does not indicate that the words were commonly paired; they appear as a fixed phrase quite rarely until the late 20th century, at which point they are mostly used pejoratively.
How is social justice warrior used?
Social justice warrior and SJW are typically used with sardonic application, referring to a person who is seen as overly enthusiastic about issues of fairness in the treatment of matters of race, gender, or identity.
Lussier will present the world premiere of his ambitious Quebecois mood piece Le Tresor de la Langue, which juxtaposes the spoken word - including sound bites from Charles de Gaulle and Quebec nationalist and social-justice warrior Michel Chartrand - with new- music noodlings.
— The Gazette (Montreal, Que.), 8 Sept. 1991

It centers on Ziggy Klein, a mousy teenager on the lowest rung of the social ladder at an all-girls school, who befriends Lex and Tessa, a pair of burgeoning social-justice warriors. Lex, a Bangladesh-born adoptee, is a person of color; Tessa, who has a prosthetic arm, identifies as a cyborg. "Inappropriation" follows Ziggy's quest to discover which newly minted labels apply to her.
— Sam Sacks, The Wall Street Journal, 11 Aug. 2018

I learnt a term that these people use as a put-down of those who try to advocate a fairer world for all - SJWs or Social Justice Warriors. I am still struggling to see how that can be a diss.
— Sunday News (Auckland, New Zealand), 8 Jul 2018
Words We're Watching talks about words we are increasingly seeing in use but that have not yet met our criteria for entry.
---