Words We're Watching
Live Stream
To stream digital data that is delivered continuously
---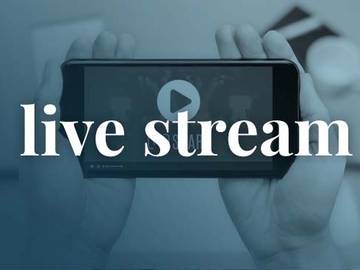 What does live stream mean?
The term live stream means "to stream digital data (such as audio or video material) that is delivered continuously and is usually intended for immediate processing or playback."
Where did live stream come from?
Stream has been a word as long as English has been spoken, and is connected to the Sanskrit and Greek words meaning "to flow." But this more recent use dates to the beginning of our current age of digital data that is not just something to be stored but something to be shared, and dates to around 1980:
: to transfer (digital data, such as audio or video material) in a continuous stream especially for immediate processing or playback
Data keeps moving ever faster, so it makes perfect sense that streaming something in real time—not waiting for the playback to catch up with the data—would require a specific name. Evidence of the term live stream goes back to the early days of widespread internet use, the early 1990s:
One problem is that several of us 'DOS' folks already have written software that handles the new data stream. However, the 'new' data stream tests were so poorly advertised (or the message got here AFTER the test) i have only tested mine on one 30 minute live stream and the teststream on pagesat.net. Neither – post by "Keith Smith," biz.pagesat, 3 October 1994

The ISP will be able to provide a number of live feeds, including live sporting events, news, talk shows, etc., to its users with minimal additional burden on their system and bandwidth…The live stream propagation software for ISP's that we've described is now available.— post by "Andy Holderness," comp.infosystems.www.misc, 10 October 1995
How is live stream used?
Live stream is used as a noun ("a live stream") and attributively ("a live stream event") and as a verb:
Its games are live-streamed to hundreds of thousands of fans across the world on the online platform Twitch.
— Jonathan Wolfe, The New York Times, 23 August 2018

Trent defended the decision, pointing out that, even in those two cases, "we were still committed to transparency by live-streaming the events."
— Greg Sargent, The Washington Post, 17 August 24, 2018
And the gerund (or verbal noun) can similarly be used to modify other nouns:
If you don't care for what Spotify or Google serves up, YouTube has user-driven, live-streaming music channels that play specifically "music to work or study to," like lo-fi, instrumental hip-hop stations and other 24/7 streaming stations playing subdued, instrumental, electronica intended to help you focus.
— Alan Henry, The New York Times, 21 August 24, 2018
Words We're Watching talks about words we are increasingly seeing in use but that have not yet met our criteria for entry.
---