---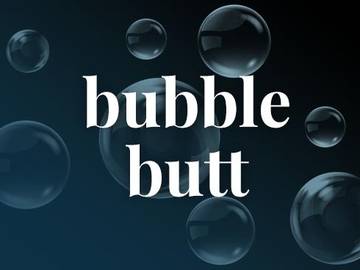 What does bubble butt mean?
Bubble butt refers to rounded buttocks, typically of larger than average size. Also, it can refer to a person in possession of such buttocks.
Where did bubble butt come from?
Bubble butt seems to have begun being applied as a descriptor of a certain type of posterior in the 1970s (bearing in mind that many words are in spoken use for some while before print evidence may be found). We have not yet attached a usage label to this entry, but when we do it will likely be something in the neighborhood of 'slang' or 'vulgar slang'; you should therefore use this term cautiously.
How is bubble butt used?
Tod, this is the day that brought us together, may it last forever. Happy Anniversary and Happy Sweetest Day. LOVE, BUBBLE BUTT.
— Detroit Free Press, 16 Oct. 1971

Allen is Bubbs. The nickname appears almost anywhere Allen can put it, on his shower shoes, his batting helmet, his Chevy Bivouac pickup. "Back when I played for Arizona State, we went down and played U of A," he explains. "And those games were always madhouses. Their football players would come down and sit behind the dugout and put saddles on us and ride us like you wouldn't believe. Now, I've been blessed with a rather large derriere. So they called me Bubble Butt. When I got back to the dugout my own guys started calling me Bubbles. It got shortened to Bubbs, and it ended up sticking."
— Boston Globe, 23 May 1980

"Because of the way I'm built, the doctors tell me to expect this from now on," said Madlock, who is 5-11 and 180 pounds. His teammates call him "bubble-butt" (referring to his buttocks.).
— Chicago Defender, 13 Aug. 1975

The great news is, you can get a two-fer, taking fat from your wobbly thighs and stomach with liposuction before reinjecting it in the right places to achieve that perfectly rounded bubblebutt.
— The Independent (London, Eng.), 5 Jun. 2018
Words We're Watching talks about words we are increasingly seeing in use but that have not yet met our criteria for entry.
---