Words We're Watching
Bracketology
The practice of predicting the outcome of an elimination tournament
---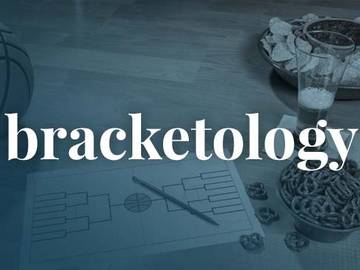 What does bracketology mean?
Bracketology is the practice or study of predicting the outcome of an elimination tournament or competition.
Where did bracketology come from?
Bracketology is formed by adding the sense of bracket meaning "a pairing of opponents in an elimination tournament" to the noun combining form -logy (meaning "doctrine, theory, science"). The word appears to have begun appearing in published writing in the 1990s, and may often be found used in reference to the purported science of predicting the outcome of collegiate basketball tournaments.
How is bracketology used?
At the University of Texas-Austin, I would like to thank Phil Morrison, Brad Shadwick, and Vernon Wong for keeping me busy during the summer of 1993 with "bracketology" and the like.
— Joseph Wade Schumer, Optimized 1d-1v Vlasov-Poisson simulations using Fourier-Hermite spectral discretizations (PhD Diss.), 1997

This time, they're a serious favorite. Besides a ring, they might be playing for a top seed in the upcoming Madness, especially in light of what happened to Martin. Not that Chaney really concerns himself with all that bracketology stuff.
— Mike Kern, Philadelphia Daily News, 10 Mar. 2000

CLP librarians have created a Pittsburgh Picks Great American Read Bracket from the 100 Great American Read titles, according to a national survey by PBS. Pittsburgh patrons voted on their top 10 titles and, using those votes and input from the CLP staff on good matches in the world of bracketology, librarians narrowed the list of 100 to 32.
— Sharon Eberson, Pittsburgh Post-Gazette, 13 Aug. 2018
Words We're Watching talks about words we are increasingly seeing in use but that have not yet met our criteria for entry.
---